Why Agent Coulson Probably Won't Show Up In The Marvel Movies Anytime Soon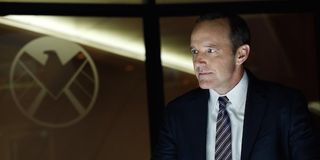 The Avengers still believe agent Phil Coulson was killed at the hands of Loki in The Avengers, but viewers watching ABC's Agents of S.H.I.E.L.D. know that he is still alive thanks to a weird alien drug. These days, Coulson is leading the remnants of S.H.I.E.L.D against threats ranging from HYDRA to Inhumans to others claiming to be S.H.I.E.L.D. Some fans have wondered whether Coulson might return to the movies at some point, specifically in next month's Avengers: Age of Ultron. However, according to director Joss Whedon, that won't be happening.
Whedon told Buzzfeed that bringing Coulson back to life on the small screen was a "no-brainer," but regarding Avengers: Age of Ultron, fans shouldn't expect to see him participating in the insanity. As Whedon put it:
Whedon's right about Coulson's "death" in The Avengers mattering since it served as the primary motivator get all the heroes to finally work together to defeat Loki. With all the characters already packed into Avengers: Age of Ultron, it makes sense that Coulson didn't make the cut. Still, it feels like a loose end at least keeping the Avengers out of the loop that he's alive. Admittedly not everyone who watches the movies is invested in Agents of S.H.I.E.L.D., but if you're at all an MCU fan, you know at minimum that Coulson's still breathing, so why hasn't that been addressed on the big screen?
It would be one thing if following his resurrection, Coulson decided to leave S.H.I.E.L.D. and retired to parts unknown to lead a quiet life. However, he hasn't been keeping a low profile on TV, and many significant Marvel characters know he's alive, from government officials like Glenn Talbot to Avengers allies like Maria Hill and Lady Sif. In the episode "One of Us," a villain actually spoke Phil's name into a microphone that was transmitting to radios across the town they were in. I get that Earth's Mightiest Heroes have been busy saving the world several times over, but it's surprising that they haven't heard at least a whisper of their friend still being alive.
Judging by Whedon's comments, it doesn't sound like there are any plans to bring Coulson back to the movies anytime soon. The best case scenario is that we may see him in one of the Avengers: Infinity War movies, which will feature big screen heroes and possibly a few from the small screen. When Thanos comes calling, the Avengers are going to need all the help they can get, including a talented special agent.
You can see Phil Coulson and his team on Agents of S.H.I.E.L.D. Tuesdays on ABC.
Your Daily Blend of Entertainment News
Connoisseur of Marvel, DC, Star Wars, John Wick, MonsterVerse and Doctor Who lore. He's aware he looks like Harry Potter and Clark Kent.