How Close Lucifer Season 1 Will Stick To The Comics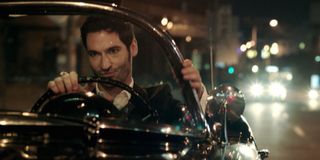 Fox is adapting yet another comic book property to premiere as a series, this one based on the Lucifer comic books. The biggest concern among the fans of the source material, however, is how much of it the showrunners will absorb into the project. By the looks of the promos, the initial response was that it wasn't all that faithful. During the big panel at San Diego Comic-Con, the cast and crew came out to shed light on this front.
According to executive producer Joe Henderson, the biggest problem the team had with creating this series was taking the comic series' high-concept ideas and expansive worlds and having to "whittle that down into an idea and a character arc." Henderson's fellow executive producer and showrunner Len Wiseman said that this series will focus on the L.A. and earthbound portions of the comics.
Wiseman continued by saying he never saw a version of the Devil being completely upfront about who he is. Their take is "completely balls out," he said. "What's gonna happen if somebody's saying that? And that approach was very different."
After appearing in The Sandman, Lucifer headlined his own Vertigo spinoff comic that saw the character fighting Heaven and Hell for his freedom. It's a universe where human suffering is transformed into a drug for demons, a universe where Lucifer creates his own universe to get away from his father's demands, and a universe where angels are portrayed as villains who have little to no regard for human life. This Lucifer is not that universe.
Lesley-Ann Brandt plays Lucifer's hellish right-hand woman named Mazikeen (aka Maze), and the actress said she didn't realize how big the idea of the comic book series was until she actually read it. Tom Ellis, who plays Lucifer in the Fox series, describes this iteration to be more in line with an Oscar Wilde type who loves classic rock and despises hip-hop music, and in favor of the darker elements of the comics for a more charismatic, charming, funny and caring Satan. Ellis even called it the funniest script he read throughout all of pilot season.
The panel was fairly short and that's because in the time allotted the audience was shown the entire pilot episode of Lucifer. While the audience reacted well towards the humor, this version seemed like a more watered down take on the source material. When you think about it, it would be difficult for even networks like AMC (with The Walking Dead) and HBO (with Game of Thrones) to depict such edgy content, let alone a broadcast network.
Lucifer will debut on Fox in 2016.
Your Daily Blend of Entertainment News