How George R.R. Martin Wants Game Of Thrones To End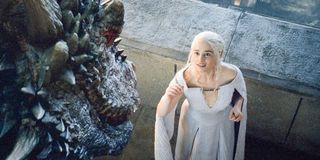 Game of Thrones is currently gearing up for its sixth season over at HBO, but as the series moves forward, it continues to get closer and closer to the ultimate end. We already know showrunners Dan Weiss and David Benioff want Game of Thrones to finish its run after Season 8, and now A Song Of Ice And Fire Author George R.R. Martin has sounded off about how he sees the end.
Martin's always been a guy who enjoys speaking, and at a recent appearance at Norwestern University, he talked about hoping for a bittersweet ending for the series, a sentiment he's put out into the universe before. But this time he adds the idea that he feels we all need to have "hope" which is a more positive take on the bittersweet angle than I think many of us have been expecting.
He also noted that he's always admired J.R.R. Tolkien's Lord of the Rings series, but feels that he tries to change the fantasy realm to be closer to reality, with people who have both bad and good inside of them.
Although Martin does occasionally write an episode of Game of Thrones, the man is mostly known as the mastermind behind the book series that informs the HBO drama. Still, while Game of Thrones has made plenty of changes from the books to streamline them for the small screen, many of the overall arcs remain the same. Plus, while the last couple of books in the A Song Of Ice and Fire series haven't been published yet, Martin has met with Weiss and Benioff to talk about the broad strokes of where the series is ultimately headed so that the two storytelling narratives don't end up too far apart from one another where the big things are concerned.
Adjectives like "bittersweet" and "hope" aren't super spoiler-y or anything, but considering the way Season 5 left off, with many characters either dead, suffering or in peril, the idea of the series ending on a hopeful note is pretty appealing at this point.
Fans, of course, can't get enough of Game Of Thrones, but unfortunately, not every one of the actors is quite as on board. In fact, two have come out in recent days to take some serious shots at the show. You can flip over the next page to find out why...
Deadwood actor and all-around badass Ian McShane was recently hired to join Game Of Thrones for Season 6. Most fans are giddy about what he'll bring to the show, but when he was recently asked about his new project, he hilarious described it as just tits and dragons, much to the chagrin of many fans.
In addition, the actor who played Stannis, Stephen Dillane, called his experience on the show "strange" and went so far as to infer he didn't really find the show or his storyline interesting, which took away most of his pleasure.
Does the Song of Ice and Fire series have any shot at wrapping up before the HBO series does? Find out what George R.R. Martin had to say about that next...
Get the full story Here.
Ready to know about Season 6? Find out what we know so far next...
Get the full breakdown of what we know about Game of Thrones Season 6 so far here.
Reality TV fan with a pinch of Disney fairy dust thrown in. Theme park junkie. If you've created a rom-com I've probably watched it.
Your Daily Blend of Entertainment News
Thank you for signing up to CinemaBlend. You will receive a verification email shortly.
There was a problem. Please refresh the page and try again.