How Many TV Viewers Actually Binge-Watch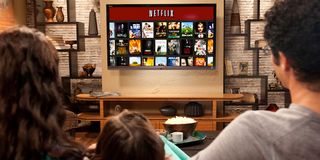 Streaming platforms like Netflix and Hulu have effectively changed the TV game. No longer do consumers have to wait a full week to see what will happen to their favorite characters. In today's Netflix and chill environment, all we have to do is sit back and let our streaming platforms provide us with an endless flow of content. This leads us to one very important question: how many people actually binge on television? As it turns out, an overwhelming majority of consumers binge-watch their favorite shows.
According to the tenth edition of Deloitte's Digital Democratic Survey, new studies indicate roughly 70% of all television consumers binge-watch television on a regular basis. Within the parameters of the study, the researchers defined "binge-watching" as viewing at least five episodes of a given program per viewing session. Think "binge-drinking," only arguably bad for your eyes instead definitely bad for your liver.
The study also found that roughly one-third of those who binge-watch do so on a weekly basis, according to THR. As one would likely expect, this phenomenon shows itself most prominently among the millennial demographic, with consumers between the ages of 14 and 25 spending considerably more time watching streaming television than any other form of TV.
One incredibly interesting thing to note about this study is the reveal that most people choose to multitask while binge-watching a given series, mostly in the form of social media usage, Internet usage, and texting. The release of series like Daredevil, Jessica Jones, and Making A Murderer have become mini events, so people seem to have the natural inclination to talk/type about these shows while they watch them, adding a layer of connectivity to the somewhat solitary act of watching television.
There is, of course, a margin of error lurking around the edges of these numbers, as the study (which took place from November 5-19, 2015) used online means to get answers from 2,205 U.S. consumers. As with all surveys, this subsection of people doesn't automatically represent the entire country, but it's a solid estimation. If only there were a 13-episode docu-series about pop culture surveys that I could watch all at once this evening.
It's difficult to say exactly what drives us to binge-watch television. One could argue that committing a large chunk of weekly time to burn through a large portion of a series could actually save time in the long run, rather than devoting smaller portions to a given series over a longer period of time. As a result of this, the binge-watching method has become a way for people to consume greater amounts of television in ways that don't disrupt their day-to-day lives.
This system of content consumption doesn't seem to be going anywhere any time soon, either. Companies seem to have caught on that people like to watch their shows all at once, and more and more seem to be hopping on the bandwagon with each passing year.
What do you think of these numbers? Do you binge-watch television on a weekly basis? Well… based on this numbers, there's a good chance you probably do. We here at Cinema Blend will keep you up to date regarding all of the latest and greatest streaming television news so you can keep binge-watching at maximum efficiency.
Your Daily Blend of Entertainment News
Originally from Connecticut, Conner grew up in San Diego and graduated from Chapman University in 2014. He now lives in Los Angeles working in and around the entertainment industry and can mostly be found binging horror movies and chugging coffee.