Inside The Actor's Studio Features Denis Leary This Monday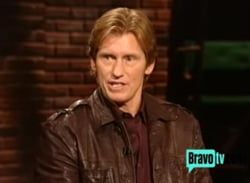 One of the things you would understand about Denis Leary if you watched his FX drama series Rescue Me is that while Leary might thrive in comedy, he does take some things seriously. In fact, the series blends comedy with the dark, dangerous and emotional world of firefighting so well that I really don't know whether to laugh, cry or just gasp during certain scenes. This Monday on Bravo, Inside the Actor's Studio will feature Leary as he sits with Lipton and talks about RM, comedy and his life and career in general.
If you're familiar with ItAS, you know that Lipton has a tendency to drift around the actor's career and life, allowing viewers to get a better perspective on the person as an actor not just through their professional career but through their life experiences as well. From the videos Bravo posted on their site (below), it looks like we're in for a real treat this Monday. Denis Leary's episode of Inside the Actor's Studio airs on Monday, May 4th at 7:00 PM on Bravo.
Check out some clips from the episode below:
And if you're a Leary fan, you'll probably love the latest Hulu.com commercial.
Your Daily Blend of Entertainment News
Thank you for signing up to CinemaBlend. You will receive a verification email shortly.
There was a problem. Please refresh the page and try again.