Interview: Eric Stoltz On Grey's Anatomy And The TV Landscape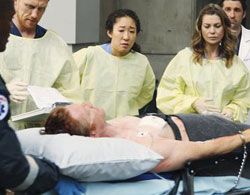 Eric Stoltz is finally stepping from behind the camera on Grey's Anatomy to play a death row inmate that is admitted to Seattle Grace. I had a chance to speak with Eric briefly about his role on Grey's, which airs Thursday, January 8 at 9pm ET on ABC. Time constraints on my end may have kept the conversation short, but Eric was gracious even though a cold was causing hearing problems.
Stoltz will appear in Grey's as William, an inmate who will be causing a rift between characters and causing even more drama on the overtly dramatic show. It appears that the treatment of William calls into question whether a murderer deserves to be saved. When asked whether this storyline was going to be yet another dramatic moment on the show Stoltz quipped, "I hope so. Otherwise we're making a comedy." I think Grey's could use some levity, even if it comes from a death row inmate.
As Eric tells it, "William comes to Seattle Grace because of a shiv in his back." From there the character will play a somewhat pivotal role in the Meredith and Derek relationship. And when it comes to acting on Grey's as opposed to directing it was a lot more fun for the actor. "We all already know each other well [from his two directorial stints on the show] so it was easy to have fun with the role." Not that the character itself is all that lighthearted. The three episode story arc is set to shake things up at Seattle Grace.
Eric also took a moment to talk about the television landscape and his choice to do television roles – he will be appearing later this year in the Battlestar Galactica spin-off Caprica. "If something grips me I'll go for it." Talking about the status of television, and how actors are now finding the juicy roles on the small screen he told Blend Television, "TV, in particular cable channels, has assumed the role of independent film." Looking at the landscape of the roles offered he simply thought television was offering a greater variety to actors wishing to explore new avenues. A fact that is backed up by shows like Damages, BSG and The Shield.
In addition to talking with Eric we also have some videos below for the upcoming episode that show William's arrival at Seattle Grace, as well as a clip featuring a whole lot of Denny hovering about during Izzy's conversation with Alex. Ghost Denny seems to do a lot of nosy hovering.
Your Daily Blend of Entertainment News
Staff Writer at CinemaBlend.