Jaime Pressly Joins NBC Pilot Bad Girls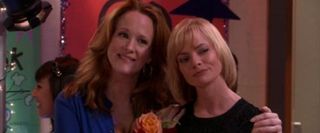 Jaime Pressly isn't waiting for I Hate My Teenage Daughter to be officially cancelled before looking for a new gig. She's signed on for a leading role in the NBC drama pilot Bad Girls, a departure from the comedy roles we're used to seeing her in.
Deadline reports that Pressly will play the warden in an all-female prison. She's a dark, sexy character who enjoys playing sadistic games with the prisoners under her watch. The pilot has already started pulling together a cast of beautiful women that will make this prison an inexplicably attractive place, feeding the fantasies of men everywhere. Already on board for the pilot are Amy Smart and Karolina Wydra. The project centers on a group of apparently ridiculously sexy inmates and the warden who keeps life difficult and interesting playing favorites; although this is a network project it's sounding like something more at home on HBO.
With I Hate My Teenage Daughter pulled from the Fox schedule and awaiting word on an official cancellation, Pressly is apparently looking to try her hand at drama. Until Fox actually decides the fate of I Hate My Teenage Daughter the new project will be in second position for Pressly, but the low ratings for the comedy and the decision to pull it from the lineup entirely rather than shelving it in April makes it pretty safe to say it won't be returning. Bad Girls will bring Pressly back to NBC where she won an Emmy for My Name is Earl.
Your Daily Blend of Entertainment News