Jamie Chung Cast As Mulan For Season 2 Of Once Upon A Time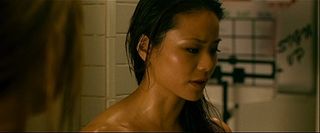 Once Upon a Time has a tough new woman coming on board Season 2. Jamie Chung has been cast in a recurring role as the legendary Chinese warrior Mulan – yes, the very same one made famous by Disney's animated feature. I think it's safe to say that this version won't be anything resembling a Disney princess.
According to EWChung, who appeared in The Hangover 2 and Sucker Punch, has been cast in the role, which comes from an ancient Chinese poem. Mulan is a young woman who steps up to take her father's place as a fighter in the Chinese army. The ballad follows her twelve years there as a warrior who earns a place among the best but remains humble.
There are no details on how the role will fit into the series, but it's said to be recurring so it looks like Mulan will be around for a while. Jamie Chung is a busy woman these days, with several movies including Premium Rush and The Man With the Iron Fists both due out this year and a TV movie called The Asset just going into production. Chung is actually Korean, but Hollywood doesn't tend to worry about such differences when it comes to casting.
Once Upon a Time is one of those series than could have been a total bomb given the difficulty of the concept, which could easily have gone down the path of the cheesy. Good casting was a big part of avoiding that making the show a hit; I am willing to bet we will see more interesting casting news for Season 2 coming up soon.
Your Daily Blend of Entertainment News