Jay Leno Will Reportedly Leave The Tonight Show In February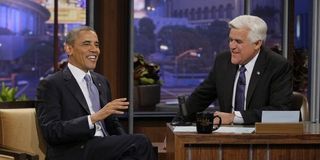 If the reports are true, Jay Leno's last night as host of The Tonight Show will be February 6, 2014. That's a Thursday and it's also the night before the opening ceremony of the 2014 Winter Olympics. For months, we've known that Leno was on his way out and that Jimmy Fallon would take over the late night talk show, shifting up a time slot, as Saturday Night Live's Seth Meyers takes over Fallon's show, Late Night. The only big question was when in 2014 all of this would take place.
Today Deadline reports February 6. This information was reportedly announced by executive producer Debbie Vickers during a staff meeting, according to "informed sources." NBC has yet to confirm this or make any official announcements about the situation. But if the reports are true, Leno's last episode will take place just before the Olympics start. Then Fallon will take over The Tonight Show on February 24, the night after the 2014 Winter Olympics closing ceremonies. The Tonight Show will be executive produced by SNL's Lorne Michaels, and we previously learned that Late Night writer Amy Ozols is set to produce. Fallon's first episode will broadcast from New York City, a shift from the series' West Coast location, and will be followed by the premiere of Late Night with Seth Meyers.
As mentioned, there's no official confirmation, but given that we know this huge change is coming next year, the Winter Olympics seems like a good time to make the shift, as the NBC-covered sporting event could serve as a nice buffer between the end of Leno's reign and the start of Fallon's, which will hopefully go a bit better than Conan O'Brien's brief run as host. It sounds like NBC thinks the post Winter Olympics shift will be Fallon's best chance at finding success at his new hosting gig.
Deadline notes that Leno's ratings have been solid, with his interview with President Obama this week clocking the biggest numbers since the President visited the show last year. But from what Deadline says, quoting NBC Entertainment chief Bob Greenblatt, "The same happened with Johnny Carson — and Jay's previous final year." So, it doesn't sound like increased ratings will have any affect on NBC's decision to move forward with this change. Assuming the reports of the February dates are true, those who are big fans of Jay Leno should probably enjoy what's left of the talk show host's run on this series between now and February.
If you haven't seen it, here's the first part of Leno's interview with President Obama:
Your Daily Blend of Entertainment News
Thank you for signing up to CinemaBlend. You will receive a verification email shortly.
There was a problem. Please refresh the page and try again.