Jon Snow Was Almost Played By This Hunger Games Star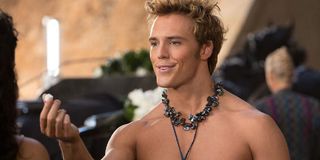 In the upcoming blockbuster The Hunger Games: Mockingjay - Part 1, Sam Claflin plays victor and Capitol adored dreamboat Finnick Odair, a District 4 tribute whose sexy smile hides a lot of secrets. But it turns out that Claflin came close to knowing nothing. Which is to say he could have been Game of Thrones' Jon Snow.
When I sat down to talk to Sam Claflin about The Hunger Games: Mockingjay - Part 1, he mentioned how this marks he and Game of Thrones star Natalie Dormer's second collaboration, following Lone Scherfig's drama The Riot Club. Oh and by the way, he's got another drama coming up (Me Before You) that will co-star the Mother of Dragons herself, Emilia Clarke. So, I asked if he had interest in becoming their Game of Thrones co-star as well. Claflin surprised me by saying, the British actor already auditioned for the show back when it was casting its first season. He explained:
It's surprising to hear Sam Claflin was called in for two Game of Thrones roles that are so different from each other. On the one hand, you have Jon Snow, an earnest, somber good guy, devoted to family and honor. On the other you have Viserys Targaryen, an entitled, power-hungry egomaniac who pimps out his own sister for political gain. I mean, what do these two characters even have in common, except…could this be an unintended hint that a certain fan theory about Jon Snow's mother is true?!
The Hunger Games: Mockingjay - Part 1 opens everywhere Friday. We'll bring you more from Jeffrey Wright and Sam Claflin later this week.
Your Daily Blend of Entertainment News
Staff writer at CinemaBlend.
Your Daily Blend of Entertainment News
Thank you for signing up to CinemaBlend. You will receive a verification email shortly.
There was a problem. Please refresh the page and try again.