Juliette Lewis Joins Wayward Pines At Fox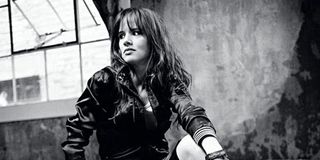 M. Night Shyamalan might be a little bit of a joke in the theatrical world these days, but a lot of high end actors and actresses have signed on for Wayward Pines, a TV event series headed to Fox. Recently, Natural Born Killers and The Other Sister actress Juliette Lewis joined the cast of the upcoming series, which will be similar to a miniseries but will run for a little longer on the network, airing 10 full episodes to tell its story.
A lot of the big roles have already been cast in Wayward Pines, which leaves me wondering exactly how big of a part Lewis will have in the event series. Deadline is reporting the actress is co-starring in the drama as Beverly, a blunt bartender with a warm personality who lives in the town of Wayward Pines. She might call the place home sweet home, but she's mistrustful of the town she lives in, as well.
The drama event will star Matt Dillion as Ethan, a Secret Service agent who is sent to Wayward Pines, Idaho to investigate a couple of missing agents. Wayward Pines initially seems like any other small town, but as Ethan begins to investigate, horror emerges, restricting Ethan and making it almost certain that he may never find his way home again. Dillon's casting is compelling, but he'll be joined by some other intriguing characters, including Melissa Leo, who will play a creeptastic nurse and Ethan's rival, and Carla Gugino, who will play Ethan's Secret Service partner and former lover in the series.
If all of this is sounding a little familiar, it might be because Wayward Pines is based on a book by Blake Crouch.
The plots in the event series seem as if they will follow the storyline of Crouch's Pines. Regardless, there's also a second book in the series with a third planned--although the last one isn't expected to be published until 2014. So, while Fox is currently marketing the new show as an event series, it looks as if the program might have the potential to earn another season if it does well. A similar event occurred over at CBS when Under the Dome was marketed as an event series until that show crushed in the ratings and CBS opted to pick the drama up for a second season.
No matter what happens, the Wayward Pines cast is pretty impressive, and Lewis definitely adds to the talent involved. If you like your shows to be weird, Wayward Pines should be worth a watch when it hits the network in 2014. We'll let you know as soon as Fox gives the event series an official premiere date.
Your Daily Blend of Entertainment News
Reality TV fan with a pinch of Disney fairy dust thrown in. Theme park junkie. If you've created a rom-com I've probably watched it.
Your Daily Blend of Entertainment News
Thank you for signing up to CinemaBlend. You will receive a verification email shortly.
There was a problem. Please refresh the page and try again.