The Fighter's Melissa Leo Joins Matt Dillon In Wayward Pines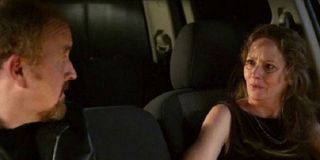 An actress as talented as Melissa Leo can't be confined to just one medium or genre. Her recent credits include thrillers Oblivion and Olympus Has Fallen, not to mention, The Fighter, which won her an Oscar. While on the small screen, she was tackling drama with HBO's Treme and Mildred Pierce and comedy with a small but memorable role in FX's Louie. She has a number of feature roles coming up, but it looks like the Oscar winner also set to return to television as she's been cast in one of Fox's "event series," Wayward Pines.
Are we calling these "event series" miniseries? From the way they're described, they run a bit longer than your typical miniseries, but the story is pre-set to a specific amount of episodes and a one-season run. Fox is going with "event series" to describe these ventures, of which they have numerous, including a 10-episode small screen adaptation of Blake Crouch's novel Wayward Pines, which is being adapted by Chad Hodge and M. Night Shyamalan. THR says Melissa Leo has signed on to join Matt Dillon in Wayward Pines. Dillon is set to play Ethan Burke in the thriller, which is said to be in the vein of Twin Peaks. Burke is a Secret Service agent who shows up in Wayward Pins, Idaho, in search of two missing federal agents. The investigation proves to be trickier than he expected. "Each step closer to the truth takes Ethan further from the life he knew, from the husband and father he was, until he must face the terrifying reality that he may never get out of Wayward Pines alive."
Leo has been cast to play Nurse Pam, who's described as intense and unpredictable. While she may be a nurse, she has a dark side and she may pose a threat to Burke, whom she's caring for when he wakes up in the town hospital. The two characters eventually go on to be "deadly rivals."
I sort of love the idea of Leo in a villainous role, but really, it doesn't matter who she's playing. She's a great bit of casting for any project. Between Leo and Dillon, this event series' cast is shaping up to be a great one. The series is expected to debut on Fox next year.
Your Daily Blend of Entertainment News
Thank you for signing up to CinemaBlend. You will receive a verification email shortly.
There was a problem. Please refresh the page and try again.