Justified Season 6 Trailer: Watch Ava Burn Everything Down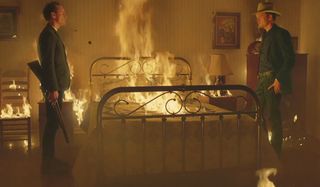 FX is gearing up for the sixth and final season of Justifed. Today, the network released a brand new trailer celebrating the upcoming episodes, and despite the fact that the new footage features plenty of hate and destruction, it should also be a pretty gleeful watch for fans. Check it out, below.
Yeah, that house is on fire. And—gasp—our buddy Raylan Givens is trapped inside. He's pretty much a badass though, and doesn't seem too concerned with his predicament, testing doorknobs and avoiding bouts of fire just like they teach you in grade school. He finally finds what, or who, he is looking for in an upstairs room. His former friend and archnemesis Boyd Crowder is also in the house, and from the looks of things, a fight picked early in the series is finally about to come to a head.
However, the video offers a great twist, noting that it is actually Ava Crowder who has started the fire and who leaves the scene unscathed. There should be plenty of anger inside Ava. After spending time in jail, where she fought for her life and even killed thanks to Boyd's influence, her Bonnie & Clyde romance sputtered out. Now, this girl is on fire.
Ava's not one to lie low when she feels attacked, or when she feels some sort of justice must be enacted. We know she shot and killed her first husband, and she has plenty of reasons to be angry at Raylan and Boyd--both men who she used to be close with and both men who eventually betrayed her. If Ava's holding all the cards at the end of this season, I'd be pleased as punch to see it.
Of course, this isn't the first footage FX has teased over the last couple of months. We've also seen Raylan and Boyd facing off in a bar, which sounds like the beginning of a really bad joke, but makes for quite the compelling first look at Season 6.
Obviously, both of the trailers are non-sequiturs and neither offer actual footage from the season, but both capably pull off exactly what they are meant to pull off—getting fans excited for the final episodes of the series. Justified has a unique regional flavor, but has consistently been one of the best cable dramas over the the last several years. And while the new episodes don't hit the schedule until January, the new material almost makes it feel as if the holidays have come early. Nah, forget the holidays. With some incredible talent, including Sam Elliott, joining the series, 2015 can't come soon enough.
Amazing Race & Top Chef superfan with a pinch of Disney fairy dust thrown in. If you've created a rom-com I've probably watched it.
Your Daily Blend of Entertainment News
Thank you for signing up to CinemaBlend. You will receive a verification email shortly.
There was a problem. Please refresh the page and try again.