Ken Follett's Pillars Of The Earth Sequel World Without End Adapted For A Miniseries For ReelzChannel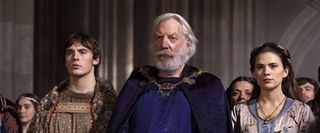 Some books are simply too dense to be trimmed down for a feature film adaptation. Ken Follett's The Pillars of the Earth proved to be a fine example of that, when it was adapted for a miniseries, which aired on Starz back in 2010. As a big fan of the story, I thought the adaptation worked for the most part. Sure, there were some adjustments made to the story, if memory serves, but the casting was good and the miniseries proved to be as entertaining as the book on which it was based. Now it looks like Follett's World Without End will be getting the miniseries treatment as well, this time for Reelzchannel.
Deadline is reporting that ReelzChannel, the network that aired The Kennedys miniseries, has acquired the rights for the eight-hour miniseries World Without End. They're reportedly looking to get the miniseries on the air sometime this fall.
The novel, which served as a followup to Pillars of the Earth, takes place more than 150 years after the events in Pillars of the Earth and is set in 14th century England. So, despite how great it would be to see Ian McShane, Rufus Sewell, Eddie Redmayne, Hayley Atwell and the rest of the cast reunited somehow for the sequel, we'll be dealing with a whole new set of characters for this story and thus, a whole new cast. Among those set to star are Charlotte Riley, Cynthia Nixon, Miranda Richardson, Ben Chaplin, Peter Firth and Sarah Gadon.
What will be back (assuming the miniseries doesn't take some major liberties with regards to the setting of the story) is the city of Kingsbridge and the cathedral, both of which played a significant role in the first story. The story also features the descendants of some of the characters in the original story, including one of descendants of Jack Builder and Lady Aliena. So there is a definite tie-in to the original story. While I don't remember loving World Without End as much as Pillars of the Earth, I did like enough that I'll definitely be tuning in to see how the adaptation works.