Kirstie Alley's Big Life Review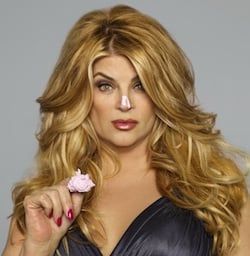 Kirstie Alley's weight issues have been the talk of the tabloids for quite some time now. So I'm taking her decision to participate in her own reality show as a chance to reclaim some of the power she has over how her image is presented.
While the Showtime series Fat Actress, which starred Kirstie Alley, was loosely based on her life, Kirstie Alley's Big Life is based on her actual life. The new A&E reality series takes us into her home and her world as we get to see her as a mother, an actress and a woman hoping to get into shape.
Kirstie Alley's Big Life begins with Alley introducing herself, her family and the people who work for her. We also dive right into the crux of the matter and what is definitely going to be a major theme in this new series. Kirstie Alley is overweight, and not just by Hollywood standards. Her weight issue hasn't gone unnoticed by the media, which means she's often hounded by the paparazzi not only when she's out with her kids but also at her home. Photographers looking to get the next "Look how big she's gotten" photo eagerly await an appearance by her. We not only see that, but we also witness the moment where Alley and her family discover a photo taken of her in her yard, on the cover of a tabloid magazine. It's not easy being overweight in this country, but imagine having a sea of photographers camped outside your house waiting to take a picture of you and have it published.
The first two episodes follow Alley as she attempts to train herself with a workout regimen, alongside her "chubby buddy" Jim (a guy who works for her and also has a weight issue). Self-training proves difficult and in episode two, she and her staff (assistants Kelly and Kyle) look to hire a personal trainer. Minor drama ensues when new assistant Kyle is caught sleeping on the job. The rest of the episode features the trainer interviews and the start of Alley's new exercise regimen.
For me, the mark of a good celebreality series comes from whether or not the celeb featured is willing to be candid and honest about who they are in front of the cameras. If the show is just an excuse for them to create a persona for themselves that they hope the viewers will buy, it usually ends up coming off as false. In that respect, Alley makes a good effort to put herself out there and doesn't hold back with some of the details of her life, including the weight gain and how it makes her feel to be "fat."
At times, her enthusiasm about her weight issue is a bit uncomfortable to watch. You know how it feels when someone makes a negative comment about themselves and you're not close enough friends with them to either joke with them about it, or else, assure them that it's all in their head? Instead, it's just awkward and you find yourself unsure of what the proper way to react is? Maybe that's just me but I found myself feeling that way on occasion as I watched the show. At times, Alley attempts to use humor when discussing her weight issues and while it's good to see she's able to see the lighter side of her weight issue, it's a bit unsettling at times. Whether it's for the cameras' sake or just how she is, I couldn't say.
Her motivation in actually taking the weight off also seems on the weaker side. I'm certainly not going to pass judgment on her there, however as this show seems to be the start of a big change for her, the first two episodes left me wondering if what we're going to see is a lot of her giving up or refusing to put the work in altogether. Looking at it more optimistically, or at the very least, realistically, seeing Alley's resistance to make the effort is something I'm sure many of us can relate to. Change isn't easy and it's entirely possible that one of the things we're going to witness isn't just the actual, physical change Alley hopes to undergo, but also the personal moment in her life when she really commits to what she's trying to do.
I think Kirstie Alley's Big Life could serve two purposes. The first being that it lets fans into her world and gives them a glimpse of how things are for her. The second is that it could motivate and inspire others who are in similar situations weight-wise, to overcome temptations and other obstacles that make getting in shape so difficult and make a change for themselves. While the series-opener definitely delivers in the first respect, I think we're going to have to wait a little while to see whether or not there's an inspirational story in there as well.
Kirstie Alley's Big Life premieres SUNDAY, MARCH 21 at 10PM ET/PT on A&E with back to back episodes.
Assistant Managing Editor
Kelly joined CinemaBlend as a freelance TV news writer in 2006 and went on to serve as the site's TV Editor before moving over to other roles on the site. At present, she's an Assistant Managing Editor who spends much of her time brainstorming and editing feature content on the site.
Your Daily Blend of Entertainment News
Thank you for signing up to CinemaBlend. You will receive a verification email shortly.
There was a problem. Please refresh the page and try again.