Will Kyle MacLachlan Return To Agent Of S.H.I.E.L.D.? Here's What He Says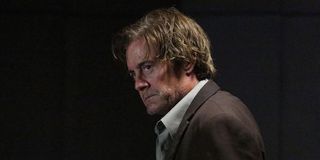 In between battling with HYDRA and discovering the Inhumans, the cast of Agents of S.H.I.E.L.D. had their hands full during Season 2 dealing with Kyle MacLachlan's Calvin Zabo, a.k.a. Skye's lunatic father. The doctor's strength-enhancing formula, combined with his insanity, made him a bizarre (and sometimes hilarious) recurring threat; but as the season progressed, fans learned more about him and how he became this this way. The Season 2 two-part finale "S.O.S." seemed to close the book on Cal's journey, but MacLachlan has hinted it might not be as cut and dry as we were led to believe.
While plugging his new movie Inside Out, MacLachlan was asked by Collider whether anybody has talked with him about returning, and the actor said he's open to returning at some point.
For those who missed the Season 2 finale, after killing his wife Jiaying and helping Coulson and the gang stop her from killing every human on Earth, Skye requested that Cal's mind be wiped by S.H.I.E.L.D. so that he could live a peaceful life without being a danger to anyone else. He is now living as small town veterinarian Dr. Winslow, and when Skye visited him, he seemed to be happy. While it was noble of Skye to help her father - seeing as his comic book counterpart is a recurring antagonist (who goes by Mr. Hyde) - that doesn't bode well for Cal's new quiet life.
Cal is too loose of a thread to leave hanging on Agents of S.H.I.E.L.D. Granted, we want him to live his new life and stay out of this world of espionage and cutthroats, but at some point, I fear something will happen that reverses S.H.I.E.L.D.'s mind wipe and reverts Cal to his normal self. Does that mean he'll go back to being a full-on villain? Not necessarily, but given how unstable he is, we shouldn't expect him to be fully cooperative either. While we may not see him in the first half of Season 3 or even in that season at all, don't be surprised if Cal shows up again in the series.
Agents of S.H.I.E.L.D. Season 3 will premiere on September 29 on ABC.
Your Daily Blend of Entertainment News
Connoisseur of Marvel, DC, Star Wars, John Wick, MonsterVerse and Doctor Who lore. He's aware he looks like Harry Potter and Clark Kent.