Life In Pieces Review: Small Pieces Of Humor That Don't Quite Fit As A Whole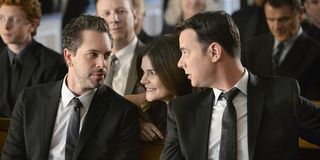 No matter how hard you try, sometimes comedy is just better swallowed in smaller pieces. And that seems to be the theme in CBS' newest 30-minute single camera comedy, Life In Pieces. The series that showed hope, lining up a stellar cast which included Colin Hanks, Betsy Brandt, Dianne West, James Brolin and more, definitely had its moments, but fell short in trying to pull everything together.
The series comes from the same studio (20th Century Fox) as ABC's Modern Family and you can definitely tell. The show seems to try and take some of the successful elements of the long-running family comedy, but with a few more bleak overtones mixed in. Created and written by Justin Adler who has penned episodes of comedies such as Less Than Perfect and Samantha Who?, Life in Pieces explores four different story lines within one connecting family.
Life in Pieces (opens in new tab) uses the style of setting up four different segments in the extended Short family's lives. The first follows middle son Matt Short (Thomas Sadoski) as he arrives at the home of his co-worker/date for the night only to find her ex-fiance (Jordan Peele) still living at her apartment. The two decide to take their sexual escapades elsewhere, and in comes the primary couple, Matt's mother and father. The mother, Joan Short (Dianne West) and father, John Short (James Brolin) are cozied up on the couch watching TV when Matt walks in, thinking they were out for the night. Already we see an ridiculous, yet a bit bleak situation front and center, as the son clearly lives with his two parents. And the quick introduction to the elder folks in the family, is our first introduction into what's to come with the story.
The next segment follows youngest son, Greg Short (Colin Hanks) as he welcomes his first child into the world with his wife Jen (Zoe Lister-Jones). The excitement following the birth of a child is completely pushed aside to the reality of what a woman's body is going to look like afterwards, that and the fact that the couple can't have sex for a while. And in this instance we start to see that the comedy is there, and can work, but it all depends on where this show takes it.
The third story introduces the biggest family of the bunch. Eldest sister Heather Short (Betsy Brandt) and her husband Tim (Dan Bakkedahl) are struggling to accept their own children's aging, particularly their son going to the college. There are a few funny moments in this quick segment, including a mom's discomfort in seeing her child grow up, and a too-smart-for-her-own good youngling who clearly is going to add that comedic trope into the mix.
The premiere did what it could in setting up this weird, dramatic, and ridiculous family. And while the first episode didn't necessarily make me want to keep watching, it also didn't make we want to turn off the TV either. The quick segments and Modern Family style make it easy to digest, and the comedy seems a bit more relatable in some of its dismal quirks. This is by no means a light-hearted affair, but at the same time it is not too isolating.
The acting clearly carries the first episode, and though the comedy writing tries to shine through, it is about three quarters of the way there so far. There's hope for Life in Pieces, but right now there's nothing solid enough to hold onto too tight. And unfortunately in the current speed of shows being cancelled or saved in a week's notice, that's an aspect that could easily cut Life's pieces short. If Life can speed up its humor, there's a good chance it could be a comedy hit. But without the writing to back it, even this powerful cast can't keep Life in Pieces afloat.
?Rating:
You can see for yourself if Life in Pieces can pull it all together when the comedy premieres on CBS on Sept. 21 at 8:30 p.m. E.T.
Your Daily Blend of Entertainment News
Thank you for signing up to CinemaBlend. You will receive a verification email shortly.
There was a problem. Please refresh the page and try again.