Listen To Tina Fey's Joni Mitchell Parody From Last Week's 30 Rock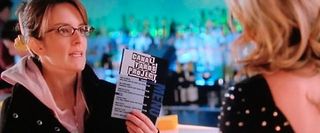 I just caught up with last week's 30 Rock episode "It's Never Too Late For Now," and both laughed ecstatically at Liz Lemon's misadventures at the Canal Yards Project, and recognized all the very true things about, from the faux-gritty name of the bar to the fact that it was located in some godforsaken corner of Queens that would be considered hip all the same. The trick, of course, is that the place was cooked up specifically to appeal to Liz Lemon, right down to the acoustic guitar music playing mournfully in the background.
The song playing sounded a lot like Joni Mitchell, but this being 30 Rock, the joke went a lot deeper than that. An Oh No They Didn't user actually tracked down the song, called "Paints and Brushes" and sung by Tina Fey herself. It's very much a Joni Mitchell parody, but also throws in all kinds of random jokes, like the fact that the network didn't want her to make a joke about tampons and a shout-out to 30 Rock producer Irene Burns. And even though she's singing in a deliberately jokey way, Fey has a surprisingly good voice. Please do yourself a favor and listen below; the 30 Rock scene that contains the song is embedded below that.
PaintsAndBrushes

(opens in new tab)

by EricAndrew16

(opens in new tab)
Staff Writer at CinemaBlend
Your Daily Blend of Entertainment News
Thank you for signing up to CinemaBlend. You will receive a verification email shortly.
There was a problem. Please refresh the page and try again.