Locke & Key Pilot May Not See The Light of Day But Here's The Trailer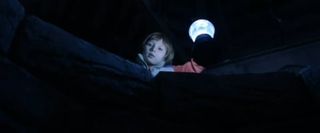 I was pretty excited when I heard that Mark Romanek would be directing the pilot for Fox's adaptation of Joe Hill's Locke & Key series. Romanek is best known for his work in the music video world creating memorable work like the Nine Inch Nails' "Closer" video, Johnny Cash's "Hurt" and Jay-Z's "99 Problems." He's a pretty adept feature director too with his two films, One Hour Photo and Never Let Me Go, being equally haunting and exquisite. Then the bad news hit, the show was not picked up.
What the (insert curse word)? With all that credibility, Romanek's pedigree on top of the popularity and critical acclaim of Hill's comic-book series not to mention a pretty great cast in Nick Stahl, Miranda Otto, Sarah Bolger, Jesse McCartney, Skylar Gaertner and Ksenia Solo. They held a special screening (well, two actually) of the pilot for the people lucky enough to attend Comic-Con 2011, and even though I was at the convention I wasn't able to catch the show. Definitely one of my regrets of that long and tiring, cosplay-filled weekend. The reactions were... well, quiet, but what I did read was promising.
I'm dying to get a look at this thing myself and, lucky enough, the trailer found its way online yesterday. Josh Friedman, who wrote the pilot (and produced alongside Fringe co-creators Roberto Orci and Alex Kurtzman) tweeted a link to some guy's vimeo account...
No actually, the account is under the name 'some guy' so perhaps this wasn't meant to leak (especially now that it's been disabled... a YouTube embed is there in its place). Either way, it's nice to get to take a look. My first thoughts are, that after a slow start with some questionable music it really got me by second half. Enough so that I would be willing to give it a shot and see what's these keys open up. Unfortunately, it's still not scheduled to hit our televisions in the near future so no shots will be given. Take a look, maybe enough support could rally a network.
The Official Locke & Key synopsis from the IDW website,
Your Daily Blend of Entertainment News