A Look Back At The Game Of Thrones Actors And Execs Who Lied About Jon Snow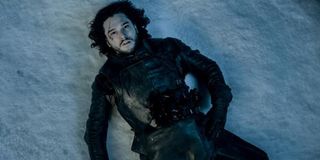 Spoilers for Season 6 of Game of Thrones are definitely in this article.
Game of Thrones ended on a cliffhanger last season when Jon Snow was stabbed in the final moments of the show. In the months following, speculation was rampant that the actor would be coming back to Game of Thrones, either because he didn't succumb to his wounds or because he would be brought back from the dead on the show. However, those near and dear to HBO's fantasy drama openly stated Jon Snow was dead and gone. And even when set evidence to the contrary came out, they ultimately stuck to their story, lying to the audience over and over again. Thus, we've compiled a list of our favorite lies from those near the set.
Soon after Season 5 ended, the Jon Snow is dead comments began to pile up. Actor Kit Harington took the brunt of the lies upon himself, awkwardly repeating that he was definitely dead on Game of Thrones. And when he was caught near the set, he said he was simply filming scenes where he was dead, which later seemed to be confirmed by other cast members on the series. I wish we could soundbite all of these Kit Harington comments, but since most of them came from print interviews, just know they mostly look like this:
After the events in this week's episode, Jon Snow even apologized to fans, stating that he had been asked by the creative team to keep the lie for the purpose of shock value. You can read his full apology, here.
However, while Kit Harington lied a lot in the last 10 months, he is by no means the only offender when it comes to secrets about Jon Snow. Showrunners David Benioff and Dan Weiss even got really gross in explaining why Jon Snow was definitely dead, stating we could tell by his eyes. I'm not even going to include that full quote because it skeeves me out.
Plus HBO President Michael Lombardo said the following:
I assume he thought that comment laid the matter to rest. And, of course, the promotional footage soon proved that Jon Snow was dead--just maybe not for good. Then, Melisandre cheekily confirmed Snow's death as part of a Late Night with Seth Meyers sketch. It's even cheekier once we consider her part in bringing the character back to life.
Liam Cunningham, who plays Ser Davos, even confirmed he messed with Jon Snow while he was trying to play dead on the set. Of course, he didn't mention that he was also on hand when Jon Snow "woke up."
Then, there was that time that Maisie Williams, who plays Arya on the show, revealed that Jon Snow was dead. However, However, that was less her fault than the showrunners, as they seem to have straight up lied to people who actually act on the show, saying:
The lies continued even the week before Jon Snow was resurrected by Melisandre after Davos implored her to attempt the feat. A week ahead of Episode 2 "Home," the showrunners were again running their mouths about how Jon Snow was dead, explaining that they didn't want the show to be like any other fantasy series.
I don't know how much fantasy the two men have watched, but I will say there is an awful lot of "trick" deaths and resurrections within the genre. However, faking Jon Snow's death for 10 months while we all assumed he was coming back is not exactly the most innovative plotline, especially when you compare it to the Red Wedding or even Ramsay's unexpected action against his father during the most recent episode. Not that I'm complaining. Jon Snow is clearly important to the larger story arc and we are super happy he's back, even if it meant we were lied to for the better part of the year, to varying degrees. (I suppose he was dead for a little bit, after all.)
You can catch new episodes of Game of Thrones on Sunday nights at 9 p.m. ET, only on HBO. In addition, here's what else is coming up on the epic series.
Your Daily Blend of Entertainment News
Reality TV fan with a pinch of Disney fairy dust thrown in. Theme park junkie. If you've created a rom-com I've probably watched it.
Your Daily Blend of Entertainment News
Thank you for signing up to CinemaBlend. You will receive a verification email shortly.
There was a problem. Please refresh the page and try again.