Is Kit Harington's Haircut A Sign That Jon Snow May Return To Game Of Thrones?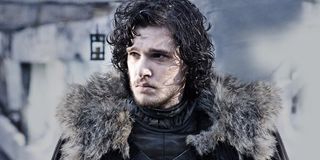 Spoiler Alert: Game Of Thrones Season 5 is already over, and there's been a ton of talk about how it ended. If you haven't caught up, however, go read something else.
The shocking moment at the end of Game of Thrones' fifth season featuring Jon Snow getting betrayed by several members of the Night's Watch has been burned into our memories at this point. The image of Jon lying with blood pooled around him won't be forgotten anytime soon, both because it was a shocking and haunting moment in the series and because it immediately produced a ton of speculation about whether the popular character was actually dead. In fact, a ot of people believe Kit Harington will return to play Jon Snow during Season 6 of Game of Thrones and the return of the signature haircut certainly isn't adding any doubt.
Kit Harington was spotted out at Wimbledon over the weekend, and although reports indicated that he cut his hair following filming last January, it looks as if the actor has returned to the hair length he was contractually obligated to maintain as a cast member on the HBO drama. Outlets like USA Today got up close and personal looks at the hairstyle, and if you take a look, you can see Harington's hair looks pretty similar to the way the actor had it when his character was stabbed at the end of Season 5. Of course, while Harington has been honest regarding his dislike for the Game of Thrones cut at times in the past, he's also been quick to point out that he would be happy to grow his hair for any part that required it.
This means the lengthy locks might simply be for a brand new gig. (After all, Harington sported long locks for Pompei.) Still, fans are pretty excited that the haircut has made a return to the actor's head just as Season 6 is coming together; recent weeks have seen casting announcements and more waft our way. The haircut could allude to the fact that Harington will return to the series next spring, despite reports to the contrary.
A few weeks ago, Harington stated that his character is most definitely dead and will not be returning to Game of Thrones during Season 6. Words from the producers echoed the very same sentiment; then again, if Jon Snow were to come back in a shocking twist, they'd be unlikely to admit to that, either. Some of the other cast members aren't even convinced Jon Snow is dead. Plus, losing Jon Snow would mean there is no POV on the Wall, which would be frustrating for fans who have invested in that storyline.
Whatever happens, winter is still coming, and we'll get new episodes of Game of Thrones soon enough. We'll just have to wait and see whether those new episodes end up featuring a crazy revival or a funeral. We'll keep you posted either way. You can catch new episodes of HBO's Game of Thrones in 2016.
Your Daily Blend of Entertainment News
Reality TV fan with a pinch of Disney fairy dust thrown in. Theme park junkie. If you've created a rom-com I've probably watched it.