Luck's Jason Gedrick Will Guest Star On Grimm In Season 2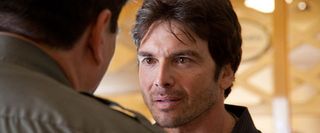 Actor Jason Gedrick didn't have a lot of fortune when HBO's Luck was cancelled, due to poor ratings and some potential horse mishandling. The actor has bounced back pretty quickly, however, recently landing a gig on the newest season of Dextor. Now, he's also headed to network television, where he will guest star over at NBC on the network's cult Friday show, Grimm.
Gedrick is set to play Craig Wendell, a man with an innocuous name, but a pretty terrifying past. Wendell will play a killer in the Grimm universe, a man Hank put away years ago after he claimed he only became a killer when fighting some monsters in self-defense. According to TV Line, now that Hank's been dealing with some monsters and mayhem, Wendell's rants seem a whole lot more plausible. In the Season 2 episode, Hank will go to some lengths to rethink Wendell's earlier claims of self-defense, but the real concern in the episode will be whether or not the man's claims will prove true.
Weirdly enough, there's a lot of killing going on around Gedrick in his next few television gigs. On Dexter, the man will be connected with a killing and will later find himself in Dexter's path, which usually spells t-r-o-u-b-l-e. On Grimm, too, the man will be connected with a killing. With those odds, it's likely that he will be playing a bad guy at least once. Let's hope its on Dexter.
Grimm's second season will premiere Friday, September 28 at 9 p.m. ET, and Gedrick's episode will hit the tube sometime later this fall.
Your Daily Blend of Entertainment News