MTV's Real World Awards Bash Falls Flat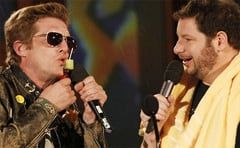 Last night, MTV aired the Real World Awards Bash. Being a fan of the series back in the day when each season consisted of at least a few people who weren't using the experience as a springboard for a career in show business, I thought I'd check it out for nostalgic purposes, if nothing else. Unfortunately, the Awards Bash turned out to be a reminder to me of why I stopped watching the series in the first place.
The event started out, showing some promise when co-host Jeffrey Ross began the night by roasting Real World: San Francisco booted cast member, Puck. Puck and his minions responded to this by dumping Ross into the pool. Unfortunately, this was one of the only highlights of the night. For the most part, the event felt forced and awkward. The cast seemed to be having an OK time but the party looked like a high school reunion, with people standing around in clusters either joking around or in some cases, looking like the only reason they showed up was for the free drinks (or possibly because they were contractually obligated). This attitude carried over into the awards portion of the show.
When RW Back to New York's Coral accepted her fishbowl for "Roommate You Love To Hate," she gave a half-hearted speech and then chucked her fishbowl award into the pool. She wasn't the only one who seemed less than thrilled with her award, either. While I'm not sure that I actually saw any drinking during the Awards Bash, it seemed fairly evident that people were throwing back a few, and who can blame them? I'd probably need to have a few drinks in me if I were nominated for one of the more out-there awards like "Best Meltdown," "Steamiest Scene" or "Biggest Playa." Those video montages weren't exactly flattering for some of the people who have probably grown up a bit and moved on since their season ended.
Another problem with the event was that for viewers like myself, who are more familiar with the 90's seasons, the night seemed to focus a lot more on the most recent seasons. This is to be expected as most likely, the majority of the viewers who voted for the various categories are probably people who are current fans of the show (and many of whom were probably still in diapers when the first season aired). All the same, with the exception of seeing Puck (who reminded me of an aged Anthony Michael Hall but seems to be doing well enough) and a few others who've dropped off the radar, the whole thing was pretty lackluster.
The bash was not without it's own dramatic moments, however. After RW Seattle's Stephen accepted the award for "Gone, Baby Gone" on behalf of Irene (the roommate he slapped as she was leaving the show), somehow an argument got started between him and Nathan (one of his former roommates). I guess, despite what Stephen said in his speech about him and Irene being cool now, Nathan claims Stephen never apologized for slapping her. I think most of us are probably way over that drama though. I'm not even sure how that one ended up winning to begin with. Seriously, how did Puck go home without an award? Why did they even bother inviting the earlier casts?
Here's the list of winners:
Best Brush With The Law - Robin (RW San Diego Season 14)
Best Dance-Off - Joanna (RW Austin Season 16)
Best Fight - Davis and Tyrie (RW Denver Season 18)
Best Meltdown - Brooke (RW Denver Season 18)
Best Phone Call Gone Bad - Jaquese and Robin (RW San Diego Season 14)
Biggest Playa - Colie (RW Denver Season 18)
Favorite Love Story - Danny and Melinda (RW Austin Season 16)
Gone Baby Gone - Irene (RW Seattle Season 7)
Hottest Female - Svetlana (RW Key West Season 17)
Hottest Male - Johnny - (RW Key West Season 17)
Favorite Season - RW Austin Season 16)
Steamiest Scene - Steven, Trishelle and Brynn (RW Las Vegas Season 12)
Roommate You Love To Hate - Coral (RW Back To New York Season 10)
Years ago MTV did a Real World reunion show in which cast members from the previously aired seasons got together and answered questions about the show and about the status of their lives since their season ended. It was fun, interesting and allowed us to see what's become of the people whose lives we got to watch for a brief time. But that was also back when the series centered around fairly average looking people with actual career goals (outside of the entertainment industry) and how they dealt with growing up and the trials of "the real world."
While there were a few clips featuring the more serious side to the series (Pedro's mission to educate people about AIDS, arguments and conversations about racism, homophobia and other issues), the bulk of the Awards Bash celebrated the drinking, fighting and hooking up. As that's primarily the reason I stopped watching the show (how much of that can you really watch before it all starts to look the same?), needless to say, I thought the Real World Awards Bash was a total bust.
Maybe I'm just totally over this series. Or maybe the producers need to go back to the beginning with this show and bring in some real people. And stop editing the episodes to only ever emphasize the crazy over-the-top moments and drunk-drama. Bring the show back to being about people who represent what it's really like to be young, and just starting out in the world. Is there really no audience for that kind of "reality" anymore? I mean, sure, real people get drunk, hook-up and get into fights (especially in their late teens/early 20s) but there's more to being a young adult than just that.
What say you, readers? Am I being too critical of the recent seasons and of last night's awards bash or has The Real World really become a shell of what it once was?
Your Daily Blend of Entertainment News
Assistant Managing Editor
Kelly joined CinemaBlend as a freelance TV news writer in 2006 and went on to serve as the site's TV Editor before moving over to other roles on the site. At present, she's an Assistant Managing Editor who spends much of her time brainstorming and editing feature content on the site.