Mad Men Watch: Season 5, Episode 9 - Dark Shadows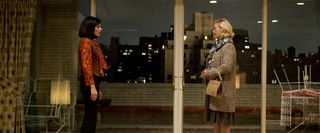 Mad Men delivers another fine episode this week with its most ensemble entry of the year and everyone brings a whole lot to the table.
Betty is back, looking a little bit slimmer and a little bit happier, but a visit to Don's house causes her to meddle and underestimate Don's new wife. Seeing both Megan's young body and her relationship with the kids gets under Betty's skin and she tries to throw a little chaos into her ex's life. Sally's family tree project allows Betty to drop the Anna Draper bomb on Sally with Betty hoping that it messes up the seemingly ideal home life Don is having.
Megan's calm nature and keen awareness foils Betty's plan and it allows for us to see a lot of these characters continue to grow. Megan seems to be continuing to get stronger as a maternal figure and is surprisingly comfortable with her current acting struggles. She also keeps Don from going off on Betty and giving her the satisfaction she is looking for, which even leads to Don letting Sally in to his Dick Whitman past just a little. Jon Hamm is wonderful in his scene with Kiernan Shipka who also gets a wonderful showcase this week as she gets mad at Megan and unleashes some of her inner Betty Draper on her step-mom. Megan and Don continue to grow every week and even with their bumps in the road the two continue to grow stronger with each passing episode and it is surprisingly compelling to watch.
Don's home life isn't his most interesting plot thread of the week as he finds himself in a competitive creative battle with Ginsberg. Don happens to see Ginsberg's pitch ideas for an upcoming Sno Ball ad and decides to try and top it and he couldn't be happier with his idea. When Don pitches the creative team his idea against Ginsberg they split 50/50, but when they pitch the office Ginsberg gains a slight edge. Hamm is again great as Don is so excited to show off that he still has it, and his petty disappointment leads to an almost shocking turn of events for the pitch. Don dumps Ginsberg's board in the cab and wins the business with just his own idea and when Ginsberg confronts him about it Don crushes him. "I don't think about you at all," crushes Ginsberg and I hope the moment doesn't mess him up as he has been on fire as of late both as a creative force at SCDP and as the shows second best comic relief next to Roger Sterling.
Roger gets a bunch of comedy again this week after a bit of a break over the last couple episodes, but his interaction with Jane is an interesting development for his soon-to-be ex-wife. Roger has a new Jewish client and he is going to use Jane as a prop to make him look more accepting of the client's heritage. Roger has to buy her a new apartment to get her to come out and we get to see even more how sad and depressed Jane has gotten over the last couple months. She perks up when the client's handsome and age appropriate son shows up to the dinner and Roger is almost willing to pimp Jane out to him if it means they get the guy's business. Before he could be a pimp he decides to sleep with Jane himself, which further shows how Roger only cares about himself and how Jane is so easily ruined again; her new apartment emotionally soiled by a new memory of the two.
Jane has been lingering around a lot this season and she has been almost endlessly unhappy, even before the divorce, and Roger has only been on the up and up as a single man. I wonder if Jane is going to find some way to pull Roger back down to earth, whether its intentional or not. Side note, Cooper not knowing Roger is getting divorced a second time was a highlight of the week.
Pete seems to gain some pep this week as he fantasizes about his suburban neighbor at the office, and gets interviewed by The New York Times. The whiney Pete comes roaring back though when he doesn't get featured in the article he was interviewed for, and I feel about the same as Don does towards him when he hangs up the telephone on Pete. Pete just gets harder and harder to defend each week, but I did enjoy him ripping on the only character he is above this season; his hopeful mistress' cheating husband.
Another episode full of character development and there even seems to be some plot development as tensions are really begin to build between a number of characters. Ginsberg and Don's feud scares me and excites me the most as I don't want to see our young star leave, but it is exciting to see Don being reenergized in a creative way. As one of the rare fans of Betty its good to see her back again and I am intrigued to see her get skinny for how it affects her as both a mother and wife, in which she has currently never been better at. Mad Men continues to be in top form this week and it is seriously making a run at being the best season in Mad Men's run.
Bullets:
-Betty is trying to finally slim down it seems.
-Will this article make Pete happy?
-Cooper is out of touch.
-"Fiddler on the Roof, audience or cast?"
-Some odd lighting in Don's office, I like it.
-Don sees that Ginsberg is the most talented creative now?
-Betty is a little jealous.
-Is Don trying to top Ginsberg.
-Whoa, dark streak there Don. Sno Ball of the damned.
-We all get that urge Betty.
-"I don't know, but everybody laughed."
-"Wow, that's actually good." Don's still got it.
-Weight Watchers Anonymous?
-Did we get fat Betty for a Weight Watchers product placement?
-Is the Dark Shadows a cross promotion as well?
-Sterling doesn't find Ginsberg funny.
-"Stop talking."
-"Tall guy, short temper."
-"I got to start carrying less cash."
-Henry having work issues could get ugly for Betty, but I hope they stay this happy.
-"Stop telling me things I said that night."
-Jane has lost all of her youthfulness.
-That was a nice fantasy, Pete.
-Poor Betty. Oh no Betty, don't open this can of worms. Just when you looked like such a good mother.
-"You should read the rest of that poem, you boob."
-Moment of truth, does Megan know about everything.
-Damn Sally, that's some classic Betty Draper coming through there.
-Thanksgiving would be quite rough for the Weight Watchers crowd.
-"Sticking her fat nose in my business."
-Don, you've come so far.
-Who were those three.
-"You know in the old buildings they had executive elevators."
-Nice lead in from Roger's little rant to Don acting out for himself.
-Foiled Betty, don't meddle.
-Roger going to pimp Jane? He did do his research.
-Good idea from Ginsberg there with the bus ad.
-Poor Ginsberg.
-"I don't think about you at all." Cold blooded.
-"I used the tooth brush in there, I hope it's yours."
-Jane is possibly bi-polar.
-That was a lot of smog.
-"Doing well."
-Ok, I feel bad for Betty, she doesn't believe that for a minute then has the worst Thanksgiving dinner ever.