Mad Men Watch: Season 6, Episode 6 - For Immediate Release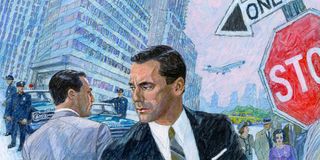 Mad Men delivers an all-timer with "For Immediate Release" whose ending is a wonderful call back to the title of this episode as the revolving door of incidents leads to a completely unexpected conclusion.
It all starts, I guess, with Roger, whose new "stewardess" girlfriend has given him tips for potential clients who get stuck waiting at her gates. Roger snags a potential client on a flight to Detroit, Chevy, and that is a good thing as Don finally gets the opportunity to fire Jaguar as he has been waiting months to do so since the incident with Joan and Jaguar's Herb. If that wasn't enough, Vicks is on the outs after Pete and his father-in-law, Tom Vogel, run into each other at the local "party-house" and Vogel decides to take his business elsewhere. All of this stress is compounded by the fact that the company is about to go public and Ted Chaough and Don both realize that they are too small to compete with the big boys even if they are both making it to all these final pitches.
All of this exposition on my part is due to the nature of the episode. It is incredibly plot driven, but that doesn't mean it isn't without some excellent character development. Don gets a bit of his work mojo back this week, as Sylvia is hanging with her Son for Mother's day, and it is exciting to see the wheel's turning in Don's brain again. Sure it is kind of sad to see him crawl back to Megan, even if she was looking good in that dress, but the moment is a bit empowering for Mrs. Draper and her psyche; even if she is taking tips from her Roger lusting mother.
While things probably aren't going to end well for Megan and Don, the short term success for SCDP is looking up after the surprising merger between them and CGC. Don and Ted randomly meet up over a late night drink before the Chevy bake-off and they realize they are in a no-win situation against these bigger firms. Their ideas are great, but the clients want the big name, so they give the big guys the contract to do the little guys' work. Seeing this unlikely duo team up is exhilarating, and it was one of those classic moments for the show where story, visuals and music all come together in a perfect moment as they head in to pitch the Corvette. The success of their merger doesn't hit their favorite copy writer, Peggy, like they hoped it would as her shell shocked look says a lot about the sure to be forthcoming uneasiness this merger is going to cause between the two companies. Some Long Notes:
-Speaking of Peggy, I'm not sure I like that she is getting all hot and bothered over Ted. I get it, home life is pretty shitty right now with Abe, but at least I got a great laugh as she imagined making out with Ted on her bed. Can't wait to see how this plays out between the two, especially as she reintegrates into life at the SCDP offices.
-Joan gets possibly the best moment of the episode this week as she goes off on Don for only ever worrying about himself instead of everyone at the company after he fires Jaguar. The moment is a burst of seriousness in the middle of a crazy whirlwind of emotions in the office, but Hendricks has rarely had a better moment than when she took down Mr. Draper. This will be a turning point for the character.
-Falling just behind Joan for the gold star of the night is Roger who steals every moment he is in. Whether he is schmoozing the Chevy client, trying to deliver some good news/bad news or trying to keep Don cool in light of the Vicks news, Roger is in top form. I had an impossible time trying to keep up with all of Slattery's great moments.
-Pete also had a whirlwind of an episode this week as he was balancing madness in every facet of his life. Between taking the company public, catching his father-in-law at a whore house, losing Jaguar, possibly gaining Chevy, losing Vicks, probably for sure losing his wife and falling down those damn steps at SCDP its a rough week. His reaction to even more changes taking place at SCDP without his consent isn't going to go over well either, even if Cooper's approval rating of him has never been higher. Poor Pete, life just can't get easier for him can it? (Yes, I know I am sympathetic for the weasel that is Pete Campbell.) I feel like I support his decision to throw his soon to be ex-father-in-law under the bus.
-All of this writing already and I haven't even touched on the great appearance by Megan's mom, Marie, who stole the early half of this episode. Between making fun of Herb's wife and giving Megan some borderline dicey advice about her love life. Julia Ormond needs to pop up on this show more often.
I feel like I am underselling this episode, there was just so much to love and write about I couldn't keep up. While the episode doesn't find closure for every door it opens this week, it shakes up the show in a way I couldn't have predicted. Weiner's script expertly balances character with plot, and does so while completely mixing up the balance of the show. The episode could have burst at the seems with the amount of information that is stuffed in here, but it nails it, telling a closed narrative for the episode while setting up some engaging stories going forward. This will be a hard episode to top for the season going forward.
Short Notes:
-"These papers are spotless, my compliments to the chef."
-Gross, to Roger using his dead mother and for Mad Men using the sexy swing music.
-"I'm more worried about you."
-Peggy's apartment, yikes! Is this sad or funny?
-"Marie's in town, fantastic!" Oh Roger.
-"I knew something was wrong, we have not had a fight."
-"I love puppies."
-"That's the guy that will be handling your accounts from now on."
-"A guy your size?"
-"Never felt better in my life."
-Don taking it to Herb will be a highlight of the season.
-"She's the apple that goes in the pig's mouth."
-Oh...Shit. Daddy Trudy!
-Always with the two cups of coffee, Bob.
-"It's why I don't worry about the bomb."
-"I just have good news!"
-"Don't you feel 300 lbs. lighter?"
-Oh, snap. OH, SNAP! Joan!
-"You had to write that down?"
-"I hate it when people say I'm nice."
-Oh boy. "I'm just grateful."
-"Then you can jump off the balcony and fly to work, just like Superman." Lots of Meta references there.
-Like mother, like daughter, I'm sorry, that's a bit dirty.
-"Roger will handle this."
-"Why don't you look in the mirror!"
-Oh no, Peggy. Not Teddy Chaough.
-"Damnit."
-"My doctor recommended a long ocean voyage."
-Ted's lying, is Don?
-Merger!
-"Hey, Lieutenant, want to get into trouble."
-"Who aren't sitting in this bar."
-"Unless this works, I'm against it."
-Ah, Corvette.
-Throw him under the bus, Pete, I'll allow it.
-Oh, Peggy.
-Peggy seems unhappy.
-"Make it sound like the agency you want to work for."
-Peggy is freaking out.
-May 17th, 1968.
Your Daily Blend of Entertainment News
Your Daily Blend of Entertainment News
Thank you for signing up to CinemaBlend. You will receive a verification email shortly.
There was a problem. Please refresh the page and try again.