Maria Bello Cast In New HBO Series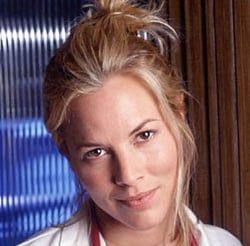 If the last time you saw Maria Bello it was in The Mummy: Tomb of the Dragon Emperor consider yourself lucky. My last run in with Maria on screen was in Downloading Nancy, a film I wish I could forget. HBO has announced that Bello has been cast in a new series created by Gary Lennon (The Shield).
The very Weeds-y sounding show centers on Bello's character having to turn to a life of crime to support her three sons after her husband is killed. She eventually employs her sons, which is probably not the most motherly choice to make. The show is currently untitled and has no release date.
Lately HBO has been taking a pounding – at least in quality of original programming – from Showtime, who have some great shows in Californication, Dexter, and Weeds. This could be a return to form for the pay cable network that right now only has Flight of the Conchords on its must-watch list. Then again, the premise being so similar to Weeds it almost sounds like HBO is now the one trying to play catchup.
Your Daily Blend of Entertainment News
Staff Writer at CinemaBlend.