Mark Wahlberg's Shooter Is Coming To TV, Here's Who's Starring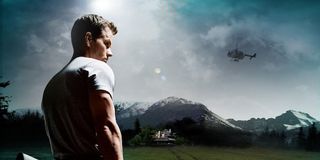 If you're a big fan of the 2007 Mark Wahlberg sniper vehicle Shooter, we've got some good news for you. It looks like a series based on the movie could be coming to the USA Network, and the new pilot has even found a star: Ryan Phillippe.
USA announced a pilot pick-up for Shooter with the Stop-Loss star in the lead role, played on the big screen by Mark Wahlberg. Based on the earlier action movie, which was in turn based on Stephen Hunter's novel Point of Impact, Shooter will be an hour-long drama, and in addition to starring, Phillippe will also serve as a producer on the project.
The action centers on Bob Lee Swagger (Phillippe), which is an awesome name for a badass fictional character. He's a former Marine sniper now living a life off the grid who gets talked into coming back for one last job because someone is planning to kill the President of the United States. As you can probably guess, things don't go super smooth for Mr. Swagger when he returns to his old life. When things go South, he winds up double-crossed and framed for trying to assassinate the leader of the free world, and he must use is particular brand of skills to elude those who want to kill or arrest him, and expose the conspiracy around the hit and the set up.
Admittedly, this could turn out to be a fun ride, though it does sound rather limited in scope. Then again, they'll probably worry about that if and when Shooter gets a series order. A kind of throwback to paranoid '70s action flicks, the film version starred Mark Wahlberg, who will produce the pilot, as Bob Lee Swagger, as well as Danny Glover, Michael Pena, and Kate Mara, and was directed by Southpaw's Antoine Fuqua.
Ryan Phillippe was recently seen on ABC's crime drama Secrets and Lies, but even though it was renewed for a second season, he will not appear. Last year, the 40-year-old actor made his directorial debut with the dramatic thriller Catch Hell, which he also co-wrote and starred in, along with Tig Notaro. He'll also get a chance to indulge his inner superhero coming up as he has been linked to the part of Danny Rand, better known as Iron Fist, in Marvel's upcoming Iron Fist series on Netflix.
Your Daily Blend of Entertainment News