5 Characters Ryan Phillippe Could Play In The Marvel Universe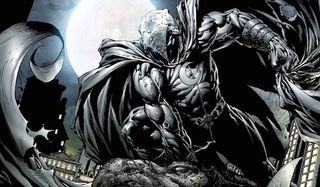 Marvel has been accumulating a lot of talent for their upcoming Netflix shows, and now a new name has been added to the ranks of people we might see in the MCU. Earlier today on The Howard Stern Show, Secrets and Lies actor Ryan Phillippe mentioned that he is meeting with Marvel to talk about one of their Netflix series. As with everything Marvel, it's being kept secret exactly what these discussions entail, but given Phillippe's extensive resume, it will likely involve playing a major character.
Coming up on the Netflix side of the MCU are three more shows, the Defenders miniseries and Daredevil Season 2, giving plenty of options for places Phillippe could appear. And that's not even taking into account what the studio may be secretly planning as we speak. Taking a look at what's coming in the future (as well as a few guesses of directions that Netflix may eventually take), here are five characters, both heroes and villains, that Phillippe could end up playing if he strikes a deal with Marvel.
5. Leland Owlsely Jr. (A.K.A. The Real Owl)
This one is a stretch, but could work if done properly. Periodically throughout Daredevil Season 1, Bob Gunton's Leland Owlsley mentioned that he had a son named Lee. Those who have seen Daredevil know that aside from the name, the MCU's Owlsley hardly had anything in common with his comic book counterpart. Daredevil's second season could remedy this by introducing Leland Jr. as the MCU's real Owl. Obviously they wouldn't be able to mirror his physical appearance from the comic books - Phillippe is much handsomer than the comic book Owl - but they could emphasize his fascination with those birds of prey and give him technology or special abilities that would allow him to take on the blind superhero. As realistic as Daredevil was, this is still a comic book-inspired world, so adding an owl-obsessed super villain with aspirations of controlling the underworld shouldn't be outside the realm of possibility.
4. Moon Knight
In terms of heroes who are may be better suited on the small screen rather than in theaters, Moon Knight definitely fits. While he has briefly had supernatural abilities, Moon Knight has primarily fought crime using only his fighting skills and gadgets. Like Daredevil, there wouldn't be any need to pour a lot of money into special and visual effects, since most of the action would be through stunts. A Moon Knight appearance/TV series would also allow deeper exploration of the mystical side of the MCU, specifically the Egyptian gods that led Marc Spector on his mission of justice. At minimum, having Phillippe play Moon Knight would let him wear one of the more unusual costumes from the Marvel universe, looking almost like a white Batman analogue. If the MCU also adapts the multiple personalities aspect of Marc's background, this would also give Phillippe a unique acting challenge.
3. Punisher
Frank Castle, a.k.a. The Punisher, is another character who would be at home at Netflix. Although Punisher's film rights returned to Marvel years ago, the studio has yet to make a movie starring the gun-toting vigilante. This is primarily due to Marvel wanting their movies to be only PG-13, and when you have a guy toting heavy weaponry and brutally killing every criminal he comes across, there's no way that movie can avoid an R-rating. However, as we saw with Daredevil, Netflix allows Marvel to delve into much darker corners without severing connections to the MCU, and Daredevil Season 1 showrunner Steven DeKnight has expressed interest in using the Punisher in this capacity. Phillippe is at the right age where it wouldn't be hard to imagine him having both Castle's extensive military experience and his own family; and once they're murdered, that sets him off on the path to vengeance against all evildoers. Maybe gunning down bad guys is what's in store for Phillippe's Marvel future.
2. Bullseye
Now that Wilson "Kingpin" Fisk is vague spoiler alert out of the picture, though possibly not for good,Daredevil Season 2 is going to need another member of Matt Murdock's rogues gallery to cause trouble. Enter Bullseye, the self-proclaimed "man who never misses." Bullseye has been an adversary of Daredevil's since the late 1970s, and has been responsible for many tragedies in the Man Without Fear's life, including killing Elektra. There's no one else more deserving of a spot as lead antagonist, and as Bullseye, Phillippe would get multiple opportunities to fight Charlie Cox's Daredevil as the super villain, using any weapon he can get a hold of as a lethal projectile. If Phillippe isn't looking for an extensive commitment in the MCU, playing a villain would be his best bet, since he could be killed off by the end of the season. The only stipulation: don't put a target symbol on Phillippe's forehead and don't make him over-the-top. Basically, go the opposite route of the 2003 movie and make Phillippe's an intimidating badass wearing the target-mask.
1. Iron Fist
All of Marvel's announced Netflix heroes have been cast except one: Danny Rand, a.k.a. Iron Fist. Of all the entries on the list, this seems the most probable. Iron Fist will most likely be released in late 2016 or early 2017, which means Marvel needs to find someone to play the martial artist soon. Phillippe already physically resembles Iron Fist in the comics, and best of all, the actor has a black belt in Tae Kwon Do, so it should be easy enough for him to perform most of the fighting moves himself. Another thing to consider is that if Phillippe does end up playing the chi-powered superhero, we may see him sooner rather than later. Luke Cage will the next Netflix series to follow A.K.A. Jessica Jones, and much like how Luke is appearing on her show first, Iron Fist could show up on Luke's show before his own begins. Those two are frequently partners in the comics, so by having Phillippe appear in Luke Cage first, the audience becomes familiar with Iron Fist and his power before the hero's mythos is delved into in his solo series.
Your Daily Blend of Entertainment News
Connoisseur of Marvel, DC, Star Wars, John Wick, MonsterVerse and Doctor Who lore. He's aware he looks like Harry Potter and Clark Kent.