Mega Man Is Getting A TV Show, Get The Details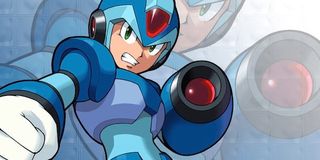 All of you fans of the Mega Man franchise, and considering that this includes dozens and dozens of games which have sold north of 30 million copies, there are quite a few of you out there, we have some good news. Mega Man is getting his very own animated television series.
Deadline reports that Capcom's venerable action sci-fi franchise will be brought to life, sort of, by Dentsu Entertainment USA, who is partnering with Man of Action Entertainment, which is a hell of a name for a company. At the moment the team plans to develop a 26-episode animated series for deployment in the global market. Dentsu will handle the marketing and broadcasting side of things, while Man of Action will take on the more artistic endeavors, like creating, writing, and executive producing the show.
The robotic Mega Man, also known as Rockman first appeared in 1987 in the game of the same name on the original Nintendo Entertainment System. Over the years the character has become Capcom's bestseller and built up a sprawling mythology. This spans countless books, comics, and even novels, but it's the games that maintain this popularity. Starting with the original ten game series, there's Mega Man X, Mega Man Legends, a series of handheld games, and many, many more for you to choose from to while away your time.
This won't be the first time that Mega Man and friends have come to your TV screen in animated form. Back in the 1990s, a Japanese-American co-produced cartoon, simply titled Mega Man, ran for two seasons from September 1994 to December 1995. Though it maintained fairly high ratings over the course of its run, the series was cancelled after just 27 episodes due to increase budget constraints. After that, there have been a couple of anime adaptations of the character, including MegaMan NT Warrior and Mega Man Star Force. The character also appeared onscreen in the late 1980s as part of the show Captain N: The Game Master.
Right now, there aren't a lot of concrete details about this shiny new Mega Man series aside from the two companies involved. They do, however, have at least a rough target date, as they would like to get the series on the air sometime in 2017. That just so happens to coincide with the 30th anniversary of the franchise, and given that it is still a ways off, it also seems like a perfectly achievable goal.
Your Daily Blend of Entertainment News