The Newest Mega Man Game Isn't What We Hoped For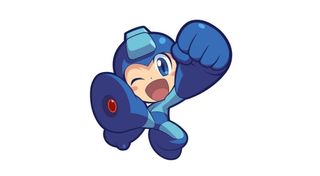 Fans of Mega Man have been clamoring for a new game for a long time. They've been begging and pleading Capcom to release something similar to Mighty No. 9 or even a Mega Man: Legends 3. Well, Capcom has listened to fans and released a new Mega Man game... it's just not quite what a lot of people hoped for.
Game Informer spotted the news about a brand new Mega Man title called Rockman GoGo. It's developed by a South Korean developer called Jenoi and it's an endless runner. That's right... it's an endless runner for Android mobile devices.
That sinking feeling in your chest that's causing you pains? It's either a heart attack or heartbreak.
If it makes you feel any better, you can check out some gameplay of Rockman GoGo with the trailer below.
The game looks... passe. There's just not a lot there from what I can see. But then again, it's a mobile endless runner... what else should we expect? The game sees players assuming the role of various characters in the Rockman universe, running through stages, shooting at various bad guys standing in your way and collecting rewards as you race toward the finish line.
Like most games in the genre, players will basically just move the character left or right on a preset track and jump over obstacles that get in your way. Games like this are very popular with some casual fans, with titles like Temple Run garnering massive amounts of sales and interest for a short time.
How well Mega Man will do in the endless runner genre on mobile devices is anyone's guess, but it's unlikely that we'll see the blue bomber and friends make an appearance in the good 'ole U.S., of A. When Game Informer reached out to find out if the game would be released Stateside and they were told by a representative...
I don't know if you can really count this as bad news. I mean, would Mega Man fans really miss a generic, endless runner for Android devices? The gameplay doesn't look all that engrossing beyond the typical game in the genre, and the gameplay mechanics appear to be extremely rudimentary.
Missing out on this Rockman game doesn't seem like much of a loss. Besides, most fans of Mega Man are looking forward to Mighty No. 9, which is due for release on home consoles and PC. It's also recently been completed, so that helps too.
Moreover, this shouldn't come as too much of a surprise to longtime Capcom followers since the company has been moving far and away from the Mega Man property for quite some time. Even still, if you happen to have access to the South Korean app store, you can take a swing at Rockman GoGo.
Staff Writer at CinemaBlend.
Your Daily Blend of Entertainment News
Thank you for signing up to CinemaBlend. You will receive a verification email shortly.
There was a problem. Please refresh the page and try again.