Megan Mullally Returns And Christie Brinkley Cast In Parks And Recreation's Season 5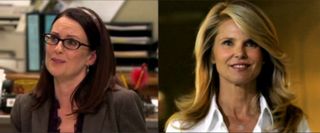 The fifth season of Parks and Recreation only started a few weeks ago and we've already seen Ron Swanson grow a little smitten. That's probably not the right word to use for his character, but the government employee (he wouldn't like that either) seems to have found something special with Lucy Lawless' Diane Lewis. And we should have known it was only a matter of time before (at least) one of the Tammys stuck their nose in Ron's most recent relationship.
It's probably not too surprising that the Tammy coming back to Parks and Recreation is Megan Mullally's '2,' since the actress is married to Ron Swanson (also known as Nick Offerman) in real life. TVGuide reports that the actress is returning to the show for the ninth episode of the season and, with a title like "Ron and Diane," I'd definitely expect some attempted relationship sabotage on behalf of the crazy ex-wife. Mullally is always great (I miss Party Down), so her return to the show as the former Mrs. Swanson couldn't be better news for me.
Speaking of spouses, we're finally going to get to meet Mrs. Gergich. Parks and Recreation has cast an actress to appear as Jerry's wife. And, if you hadn't already seen the above photo, you wouldn't believe who NBC has brought in to play the better half of Jim O'Heir's character. I mean, there couldn't be a worse half than Jerry, right? But Christie Brinkley? Come on! According to EW's Inside TV, the former supermodel (who I mostly associated with her two National Lampoon's Vacation movie cameos) will be playing the now infamous Gayle and, as the article notes, it certainly explains a lot when it comes to how Jerry fathered a daughter as hot as Millicent. So how did he land her? I refuse to speculate.
Parks and Recreation airs Thursdays at 9:30 p.m. ET on NBC.
Your Daily Blend of Entertainment News
Thank you for signing up to CinemaBlend. You will receive a verification email shortly.
There was a problem. Please refresh the page and try again.