Melissa Rycroft Joins Entertainment Tonight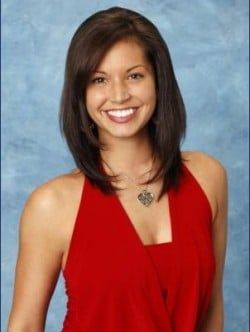 By golly, if Elisabeth Filarski Hasselbeck can turn a reality show turn into a career as a television talking head, why can't Melissa Rycroft do the same? After (not) winningthe heart of The Bachelor Jason Mesnick, Rycroft took third on Dancing with the Stars, Rycroft has signed on as a correspondent for Entertainment Tonight.
The former Dallas Cowboys cheerleader has already parlayed her ABC reality exposure into work for the network's Good Morning America, as a special contributor, and a role on their New Year's Rockin' Eve special. Now she'll be seen on the syndicated celebrity news program covering awards shows, premieres, parties and set visits according to People.
The magazine also noted that she'd make a great replacement for Samantha Harris on the show that made her a star: Dancing with the Stars. With her natural poise and grace on camera, she certainly couldn't be much more awkward than Harris.
It's always fascinating when reality stars are able to successfully transition their reality work into legitimate careers; as they are few and far between. It takes a perfect blend of a good public perception on your reality program, looks, charisma and intelligence. That's probably why Jonny Fairplay isn't working at CNN right now.
Your Daily Blend of Entertainment News
Your Daily Blend of Entertainment News
Thank you for signing up to CinemaBlend. You will receive a verification email shortly.
There was a problem. Please refresh the page and try again.