Melvin Williams, Kingpin Who Inspired The Wire, Dead At 73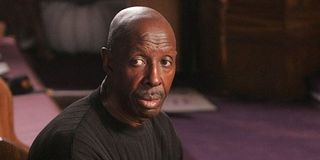 HBO's The Wire was a popular and critical hit that, in part, followed the stories of the criminal underworld of Baltimore. One of the most curious figures of the show was Melvin Williams, whose past as a drug kingpin yielded a surprising individual who publicly spoke out against drug culture in his later years and earned him the role of a deacon on The Wire. Sadly for fans of the show, Melvin Williams has passed away at the age of 73 after a struggle with cancer.
Melvin Williams died at the University of Maryland Medical Center on Thursday, December 3, according to The Baltimore Sun, leaving behind a legacy of a drug empire as well as redemption.
Williams – known as "Little Melvin" – ruled the illegal drug trade in Baltimore after his rise to prominence in the 1960s. Federal prosecutors claimed that his drug trade had grossed $1 million per day, and Williams himself claimed in a YouTube video that he had sold $1 billion in narcotics during his time as an active drug dealer in Baltimore.
Williams spent many years in prison on gun and drug convictions, and the drug scene changed while he was behind bars. Personal tragedy, added to the fact that drug culture had lost what Williams saw as its honor, led to him taking a stand against drugs and gang violence following his release in 2003. He joined the cast of The Wire for the third and fourth seasons in 2004 and 2006.
Despite Melvin Williams being cast on The Wire, it was never confirmed that Williams was the direct inspiration for drug dealer Avon Barksdale. The similarities between the two were uncanny, but Wire producers maintained that Barksdale was not based on any one crime figure of Baltimore past. Instead, Barksdale was created from characteristics drawn from a number of figures.
Frankly, Melvin Williams' transformation from kingpin to a respectable pillar of a community might have felt like contrived writing for any television show. His impressive change of heart was truly almost unbelievable, and his contacts within drug and gang culture, as well as his cooperation with law enforcement to a certain degree following his release, made him an ideal candidate for bringing change to streets of Baltimore in need of intervention.
Religion played a role in his transformation, beginning in prison and continuing after becoming a free man once more. Individuals ranging from a pastor to a former police commissioner to a former gang member have spoken of Williams' strength of character and determination to do right by his community.
Melvin Williams was a fascinating individual from a dark time in Baltimore's past, and his appearances on The Wire gave him some wider and more positive acclaim than he would have received from just Baltimore media. His legacy is one will last, and he will no doubt be missed.
Resident of One Chicago, Bachelor Nation, and Cleveland. Has opinions about crossovers, Star Wars, and superheroes. Will not time travel.