Mockingbird Lane's Mason Cook To Play Rob Corddry's Son In ABC Comedy Pilot Spy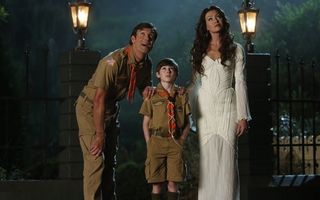 Things may not have worked out for Mockingbird Lane, but the adorable kid who played Eddie Munster has already signed on for a new project, which could put him back on television, should things go well for the ABC pilot Spy. Mason Cook has been cast for a role in the comedy, which is based on a British series and will star Rob Corddry (Childrens Hospital, Warm Bodies).
Spy Is a U.S. adaptation of Simeon Goulden's British series, and Goulden reportedly on board to pen the pilot that ABC is developing. The single-camera comedy would star Rob Corddry as Tim, the father of a smart and "verbal" son, who's pretty much his opposite in all ways. The title factors in when Tim inadvertently takes a job at the Secret Service in an effort to prove himself worthy of being a father. It sounds like a pretty excellent role for Corddry, and a great concept for a comedy. Those who have seen the original series likely have a bit more insight there, but as a fan of Corddry, I have high hopes about this one.
Deadline says Mason Cook has signed on to play Corddry's son. In addition to the Munsters reboot Mockingbird Lane, which didn't go to series but did air as a Halloween special last fall, Cook's credits include a few episodes of The Middle, the recently aired pilot ep of TNT's Monday Mornings. On the feature side, he was in Spy Kids: All the Time in the World in 4D, and we should also expect to see him playing the younger version of Steve Carell's character The Incredible Burt Wonderstone. He also has a part in The Lone Ranger. Suffice to say, this kid is almost everywhere lately, so this is a great bit of casting news for an already promising sounding comedy pilot for ABC.