My Name is Earl – My Name is Inmate #28301-016, Part 1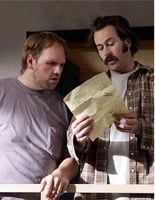 When last we left our karma-challenged Earl, he was languishing in prison for a crime he didn't commit – to keep his snarky ex, Joy, from doing time, since she's pregnant and all. In Earl's words, prison is a "two-year slumber party with murderers and rapists."
Earl, aka Prisoner No. 28301-016, is doing ok in the slammer, until his protector, Ralph, paroled himself by tunneling out of their cell. (Don't you think Earl would have noticed? Whatever.) Anyway, that's when the dung hit the fan. The guards beat Earl to a pulp when they caught him peering through the hole underneath that Dolly Parton poster in his cell.
Joy's feeling ultra-guilty about Earl going to prison. So she agrees to look after Randy, who's having trouble with things since Earl's been gone. Things like setting the alarm clock, remembering his apartment number, and knowing when not to step into oncoming traffic. Also, Randy's carrying around one of Earl's shirts as a security blanket. In Joy's words, he looks like a "big-headed hillbilly Linus."
In short, Randy ends up moving in with Joy and Darnell, driving Joy nuts with his detailed recaps of B.J. and The Bear episodes. It's all too much for Joy, who decides to use some tough love on Randy by snapping him upside the head with a giant rubber band. Pretty soon, Randy's making his own food choices and finding the toothpaste on his own. There's a good boy, Randy.
Meanwhile, Earl is doing his best to survive in prison. He's too white for the Latino and black gangs, not white enough for the Albino gang. He tries the white Supremacist gang – "Who else thinks the Civil War ain't over, it's just half-time?" – but finally lands in the old-timer gang. Until he figures out they're just using his youthful strength to fend off all the other gangs.
Then Earl runs into an old pal, Sonny, who teaches him how to be invisible. But things quickly go sour when Sonny rats him out to another old pal, Glen, who has a grudge against Earl. Something to do with an open window, two dogs, an assault charge, and an extended stay in juvie. Earl hadn't gotten to Glen on the list yet.
Earl vows to make it up to Glen by helping him earn his last two Boy Scout badges. Glen succeeds and gets paroled, leaving Earl in prison. It's ok, though, because Randy decides he can't make it without Earl's bedtime stories, so he steals a car so they be roomies again. In prison.
I love this show, but this episode wasn't as funny as I hoped it would be – especially after waiting since last May for it. Sure, it's nice to have Earl and the gang back, but let's see something really inspired, Earl Writers. Like that episode last season where Earl and Randy ended up on an episode of Cops. Now THAT was funny.
One of the coolest things about My Name is Earl is the music. Tonight's episode featured "I'm Crying" by Eric Burdon and the Animals, "Move It On Over" by George Thorogood and The Destroyers, and "Sympathy for the Devil" by the Rolling Stones. All I can say is, they must be throwing some serious cash around for the DVDs.
Your Daily Blend of Entertainment News