NBC Orders Shaun Cassidy's Western Pilot, The Frontier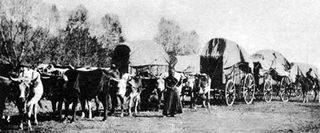 Shaun Cassidy is in the same category as Tim Minear and Bryan Fuller: over the years he's brought us several fascinating, original, and sadly short-lived shows. Even if you're a genre TV fan that doesn't recognize his name, you still might have found yourself briefly addicted to shows such as American Gothic and Roar (the show that gave us Heath Ledger, if you recall). Hell, I've got a good friend who's still pissed off about the cancelation of Cassidy's aliens-in-the-water series Invasion back in 2006. Cassidy has been off my radar since that series went under, although he has been working as a consulting producer on CBS' Blue Bloods. He's primed to make a return in the new season with a Western series called The Frontier, to be directed by Thomas Schlamme (Pan Am).
Deadline reports that NBC has given the green light to the Sony pilot, which sounds a bit like The Oregon Trail: The Series based on its description. The show will follow a group of travelers in 1840, making their way from Missouri to the West Coast. Along the way, there will presumably be no shortage of problems for them to face: scavenging food and water, wild animals, internal conflicts, and Native Americans annoyed at these crazy white folk scuffing up their front lawn. I'm betting somebody also dies of dysentery. They almost have to.
The Frontier is one of several Western pilot scripts NBC has ordered in recent months, so who knows whether the show will actually make it to air. If so, hopefully it will last longer than some of Cassidy's earlier shows.
Your Daily Blend of Entertainment News