Neal McDonough Joins Frank Darabont's TNT Pilot LA Noir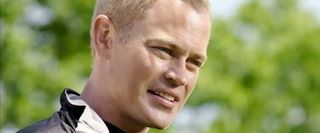 It looks like Neal McDonough found what could be his next TV role. The actor is currently playing the role of Robert Quarles on FX's Justified, and his credits include a couple of big screen parts. And possibly coming soon, we may be seeing him in Frank Darabont's TNT drama pilot LA Noir.
Written and directed by Darabont, whose recent work includes The Walking Dead, LA Noir is based on John Butnin's book L.A. Noir: The Struggle For the Soul of America's Most Seductive City, and follows the true story of the conflict between the LAPD and "ruthless criminal elements led by mobster Mickey Cohen, a one-time boxer who rose to the top of LA's criminal world." McDonough has been cast to play the role of Police Chief Parker, who's described as a man with a long memory and a ruthless streak when provoked. He's set on taking down Cohen, and also dedicated to rooting out corruption within the police department.
This certainly sounds like a part McDonough can handle. In addition to Justified, he's also appeared in Desperate Housewives, and Syfy's miniseries Tin Man. McDonough joins previously cast Milo Ventimiglia (Heroes) in the TNT pilot. The Walking Dead's Jon Bernthal is also said to be in talks for a part in the project. My guess is that confirmation (or official debunking) of Bernthal's casting may be held of until things wrap up for TWD's second season. Hopefully we'll hear one way or another if he's set to play a role in the drama, soon enough. In the meantime, McDonough is certainly a great addition to the pilot.