The Newsroom Adds Grace Gummer For Season 2, Plot Details Revealed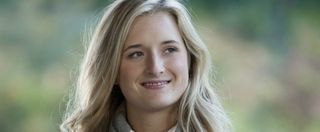 Vague spoilers ahead! With the election over, you might figure we've heard enough about the presidential campaigns for one year. But come next year when HBO's The Newsroom returns, the series will tackle the subject of the election from a cable news perspective. In other news, Grace Gummer is joining the series in a recurring role.
Aaron Sorkin's The Newsroom stars Jeff Daniels and focuses on the inner workings of a fictional cable news program. The series tackled a number of real news events during its first season, taking a fictional approach on how these global news stories might be approached from a cable news perspective. In that respect, the election would be a great topic to play with, and by the time The Newsroom returns, there will be enough distance between the actual election and the show that people might not feel so exhausted by the topic.
Deadline mentioned the election topic, as well as the news that Grace Gummer is joining the HBO drama in its second season in a recurring role. She's playing Hallie Shea, "an embedded reporter covering the Mitt Romney campaign."
Gummer may be familiar to people who watched Nickelodeon's Gigantic. She also appeared in an episode of NBC's Smash in its first season, playing the daughter of Anjelica Huston's character. And if her face seems familiar, that may also be because she's the sister to Emily Owens, MD star Mamie Gummer, and the daughter of Meryl Streep. It'll be interesting to see what she brings to The Newsroom and which character(s) she'll be interacting with.
Your Daily Blend of Entertainment News
Thank you for signing up to CinemaBlend. You will receive a verification email shortly.
There was a problem. Please refresh the page and try again.