Noah Baumbach To Adapt Jonathan Franzen's The Corrections For HBO?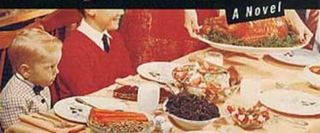 Just further proof that premium television is becoming the number one place to bring prestige projects, actors, writers and directors. And now it seems that HBO is hoping to adapt Jonathan Franzen's critically acclaimed novel The Corrections. Oh, and they're bringing in a uniquely talented writer and director with a voice perfectly fit for the project in Noah Baumbach.
Franzen's celebrated novel, which was the winner of the prestigious National Book Award in 2001 (among many other honors), is, at its heart, about a dysfunctional family, which is why it's right up Baumbach's alley with the director creating some of the more interesting examinations of family relations on film over the last few years, especially with his breakout hit The Squid and the Whale. Baumbach was prepping a project called While We're Young, which has had all his frequent collaborators circling at some point including Ben Stiller, Greta Gerwig and Jesse Eisenberg but, with The Corrections on the horizon, it appears the long-gestating film has once again been shuffled to the back of the pile.
The Playlist first reported the story, mentioning how there have been a few failed attempts to bring Franzen's novel to the big-screen, one involving uber-producer Scott Rudin with Stephen Daldry attached to direct and David hare to script. This new attempt to kick-start the project is still in the earliest of phases but I'm hoping this one makes it to television screens, either as a series or mini-series or movie. The Playlist noted that some high profile actors are already circling as "Anthony Hopkins and Donald Sutherland are apparently both interested in talking the lead role of Alfred Lambert, the family patriarch who suffers from Parkinson's-induced dementia." Love them both and no matter what, if this hits HBO, I'll be watching.
The official synopsis from the book's sleeve,
Your Daily Blend of Entertainment News