Now That The Strike Is Over, When Will My Shows Come Back? (Updated)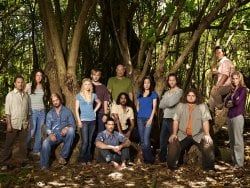 The writers strike is over; can I get a "woo-hoo!"? Now, with writers returning to work today, it's time to get down to brass tacks. The staff, crew and actors of our favorite shows are scrambling to get reorganized and figure out how many new episodes, if any we can expect for the rest of the season. Luckily, E! Online's Kristen Dos Santos has a good idea about the fates of 39, yes, 39 different series. Here we go:
UPDATE: I have just heard about the fate of NBC's Life, so now we have info on 40 different shows. Read below for the news.
24
It's already been widely reported that we won't be seeing Jack Bauer's latest hellish day until 2009. Production was cut short before the completion of the 12th episode. Since there likely won't be time to complete the full 24 episodes, it is likely that the entire season will be shelved until next year.
30 Rock
Tina Fey is a machine. She and the rest of the cast and crew are reportedly set to churn out another 5-10 episodes, to air in April and May.
Battlestar Galactica
No episodes from its fourth and final season have aired, but the hugely popular series has 14 episodes in the can. Because of the time limit, it looks as though the fourth season will be split into two mini-seasons. The first 10 of the already-produced episodes will begin airing April 4th, with the remaining episodes of the season airing either in the fall or in 2009.
The Big Bang Theory
According to executive producer Bill Prady, they're rocketing back to our TV sets, with episodes appearing mid-March. As for the number of episodes we can expect Prady says, "Well, it all depends on how many writers we want to kill in the process. Maybe it's okay to lose a few—a noble sacrifice. Realistically, though, I'd think eight or nine."
Big Love
Everybody's favorite polygamists are slated to go back into production in March, with new episodes airing sometime this summer.
Bones
This series' fate is somewhat up in the air. While one castmember is confident they will return to work within the next couple of weeks, there has been no official announcement regarding whether or not we will see any new episodes this season.
Brothers & Sisters
There are only four more episodes coming this year and will more than likely air during May sweeps.
Burn Notice
Burn Notice is actually in a pretty good position. The strike lined up almost perfectly with their hiatus and USA has bumped them up to a 16-episode season that will air this summer.
Californication
Since they (inexplicably) just won a Golden Globe, they'll definitely be back, but there's no word as to when.
Chuck
The Buy More gang will definitely be back—but probably not until next season. But hey, at least they're getting a second season.
CSI: NY
There's a possibility of up to seven new episodes this season, but this along with the possible premiere date is unconfirmed.
Desperate Housewives
Executive Producer Marc Cherry is reportedly "chomping at the bit" to get back to work. There's a chance we can see six new episodes of Wisteria Lane hijinks by the time May sweeps rolls around.
Dexter
CBS is getting ready to air the first season. Meanwhile, Showtime is going ahead with a brand-new third season, but a premiere date has not been announced.
Dirty Sexy Money
DSM reportedly still has a few unaired episodes, but those will be the only new ones we can expect until next fall.
Friday Night Lights
Aaaaaack. The second season DVD reportedly only contains the 15 episodes that have already aired, so it looks as though last Friday's episode will be the last of the season. Based on its continuing low ratings, there's also a good chance it will be the last new episode—ever. Proving, once again, that TV is ridiculously unfair.
Gossip Girl
The CW lurves this show, so there's a chance we can see as many as nine more episodes this season and will return ASAP.
Grey's Anatomy
Grey's will go back into production immediately and produce a handful of episodes to air in April and May.
Heroes
We pretty much knew going into the strike that Heroes wouldn't be back until next season. The plan now is to have it relaunch at the end of the summer. In the meantime, showrunner Tim Kring is taking a page from Lost producers and mapping out the series for the next several seasons. This can only mean good things after its meandering second season.
House
The docs are expected to return for a handful of episodes to air April and May.
How I Met Your Mother
While there has been no official word from CBS regarding HIMYM's fate, executive producer Carter Bays says that they're going to try to churn out about eight more episodes.
Life (New Info)
The NBC series starring the ridiculously hot Damian Lewis didn't exactly receive stellar ratings, but is nonetheless mercifully being picked up for a second season. However, we are unlikely to see any new episodes this year.
Lost
Lost has just started airing new episodes, and while we'll likely get more than the eight episodes we thought, it will be less than the originally promised 16. Producers are reportedly working on an additional five episodes to bring the season total up to 13.
Mad Men
Mad Men has actually been in production for the last week, since their production company, Lionsgate, was able to sign an interim deal with the WGA. They're currently expecting a late-summer premiere date.
My Name is Earl
EP Greg Garcia says they're planning to produce a one-hour re-season premiere, a one-hour season finale and five episodes in between. Production is scheduled to start in two weeks, but a premiere date has not been announced.
NCIS
A writer hopes to get six more episodes produced this season, but there has been no official word.
October Road
The series had a 13-episode order, and there are three produced but unaired episodes remaining. There has been no word regarding the series future, however.
The Office
6-10 more episodes! Hallelujah! Hopefully the writers have been thinking of hilarious and inventive ways to work with/around star Anglea Kinsey's real-life pregnancy.
One Tree Hill
The CW drama has six already-produced episodes ready to air, and the network has requested an additional five or six episodes this season.
Private Practice
Addison and the gang aren't likely to return this season, but will be back for a second season with at least 13 episodes.
Psych
The detective show just aired its season finale and will return next season with 16 more episodes.
Pushing Daisies
The writers won't go back to work until March, and even then they won't be working on more episodes for the first season. Instead, they'll be concentrating on bringing us a full kick-ass second season.
Reaper
Reaper will reportedly finish out this season with five more episodes, but any premiere dates and its fate after this season have not been announced.
Samantha Who?
The Christina Applegate show already has three produced but unaired episodes and ABC has reportedly asked them to produce another 6-8 episodes for this season. They've also been picked up for a season 2.
Scrubs
The strike put Scrubs in an especially bad position, with NBC not too psyched to air the remaining episodes of the comedy's final season. Creator Bill Lawrence has vowed to write and produce the final six episodes, but where and when they'll be shown is still up in the air.
Smallville
While no dates have been announced, the CW reportedly wants five more episodes produced this season.
Supernatural
Supernatural has been asked to produce five or six more episodes this season, but EP Erik Kripke thinks it will be more like three or four episodes.
The Tudors
Season two has already been shot and will premiere in March.
Ugly Betty
We can expect 4-6 more episodes this season, with one of them possibly being a musical episode.
Weeds
The Showtime series is currently in production and will air 12 episodes starting in July.
Women's Murder Club
One of my guilty pleasures is in a not-so-good spot. There's a chance that we won't see any more episodes of the Angie Harmon show—ever.
This is what we have so far, but be sure to keep checking Blend Television for all of your prime-time updates.
Your Daily Blend of Entertainment News
Your Daily Blend of Entertainment News
Thank you for signing up to CinemaBlend. You will receive a verification email shortly.
There was a problem. Please refresh the page and try again.