Parks & Recreation Gets A Third Season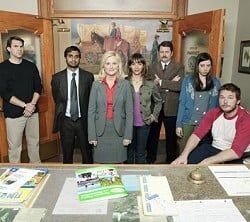 It's good news for fans of local government. Despite continuing lackluster ratings on NBC's Thursday night comedy lineup, the network has handed Parks & Recreation an early third-season pickup, as reported by The Wrap. Apparently the early word has something or the other to do with Amy Poehler's schedule and production timing issues, but who cares?
The bottom line is that a show I was ready to dismiss after a disappointing first season has quickly become one of the best comedies on television. Furthermore, a pick-up for the lowest rated among NBC's four comedies on the night bodes very well for Community as well. At this point, you have to figure it's a lock for The Office and 30 Rock to just continue until they decide not to.
P&R has been averaging about 5 million viewers this season, which isn't great, but isn't terrible by NBC standards. It's doing better than Heroes -- but then again that's not saying much. Sometimes it helps to be on an underperforming network. Look at how long shows can thrive on The CW with miniscule ratings.
Considering how strong NBC's Thursday night lineup is from 8-10 PM ET, it's a shame these shows aren't getting better ratings. Maybe some stability on the night, along with continued critical acclaim and awards notice, will slowly convince people that there's something worth tuning into there. If CSI and Grey's Anatomy continue to slip, NBC might be able to get a piece of that pie.
Your Daily Blend of Entertainment News
Your Daily Blend of Entertainment News
Thank you for signing up to CinemaBlend. You will receive a verification email shortly.
There was a problem. Please refresh the page and try again.