Parks And Recreation Reaction - The Hunting Trip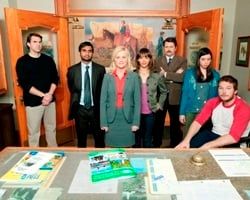 Tonight, the guys take their annual, illegal, office hunting trip allowing Leslie a perfect opportunity to come along and ruin it. Overall, "Hunting Trip" was a very strong episode. Although I still do have problems with choices on the part of Parks and Recreation writers, tonight's episode proved it is still one of the funniest shows on television.
All I thought was, "please, please, please don't let someone get shot in this episode." It was just too obvious. Unfortunately "Hunting Trip" wasn't able to oblige, but just when I thought this little bit of ridiculousness would ruin the episode, they finished strong. The characters on Parks and Recreation are extremely strong. They have depth and are hilarious. Even Amy Poehler has toned it back of late, allowing for a more well-rounded and believable character. I guess what I am saying is lose the craziness because everything else about "The Hunting Trip" was hilarious without the accidental shooting.
The mystery bullet did hit the mark in one place though. It landed Leslie, at long last, in the boy's club. For someone who has struggled to find her way into this mythical place (among the guys) it was something so simple that actually punched her ticket in. It was actually just Leslie being Leslie and I appreciated that because above all, Leslie is loyal to her friends. In the end, that is what guys respect the most and why Tom is probably out of said club for life. Tom getting pants by Ann was the coup de grace.
The highlight of the entire episode was Andy and April's day at the office. It's what Parks and Recreationdoes best. Andy and April combined bits of the inane (waiting on hold), the juvenile (spitting out soda), the utterly childish (Marco Polo), and the loosely redemptive (hickies as a way to create jealousy). They even combined physical comedy. Actually, Parks and Recreationdoes the physical aspect very well and I was dying when Andy trips over the chair trying to find April in Marco Polo. And how fitting that the two most enigmatic characters come together over some so simple as just everyone else leaving the office. This is the kind of thing I love from Parks and Recreation: the comedy in simplicity.
Highlights:
- Parks gives us the exact perfect amount of Jerry. He gets in there just to let us know how maligned he is, and he exits just as quickly. Tonight it was just finding out hunting weekend was his one weekend of the year he can pee standing up.
- Piggie back rides are the thing every single office needs. Actually every office just needs and Andy around. Chris Pratt is a revelation in this role.
- I am not the biggest fan of Donna's character but loved funeral-like reaction to her BMW's gun shot wound.
- "They're probably making out on top of a deer carcass. Super romantic." – Andy you are my hero
Your Daily Blend of Entertainment News
Doug began writing for CinemaBlend back when Terminator: The Sarah Connor Chronicles actually existed. Since then he's been writing This Rotten Week, predicting RottenTomatoes scores for movies you don't even remember for the better part of a decade. He can be found re-watching The Office for the infinity time.