Parks And Recreation Watch: Season 5, Episode 14 - Leslie And Ben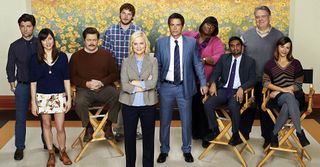 Ben and Leslie decide to get married and I can't imagine it being much better than this.
Last week's episode ended on a cliffhanger of sorts with Ben proposing to Leslie that they get married at the end of the gala that just secured themva park on the abandoned lot. Everyone is game, but it's never that easy on Parks & Rec, but it ultimately works out for the best.
Jamm makes one last run at humiliation for Leslie and he hilariously succeeds in disrupting Leslie's wedding. From being obnoxious to dropping stink bombs, Jamm is in top form. I really am going to miss Jonathan Glaser as the park plot line takes a back seat from here on out. Watching Ron punch out Jamm was equally enjoyable, if predictable, but this little kerfuffle allowed for the episode to find an even better ending.
After bailing out Ron and leaving Jamm to his five toilets, Leslie walks into a surprise, make shift ceremony right in the middle of the Parks Department. The mood is perfect, the vows are emotional, and honestly it is a shame that this isn't the last episode of the series. It was planned that this could possibly be the swan song for the series when the show only had a 13-episode order when they started mapping things out, but when a full season order was picked up, they decided to just run this in the middle. Trust me, I am more than happy to have more Parks & Rec, but the execution on this episode was so perfect they have created a near impossible mountain to top when the actual finale does come. There has been some retcon going on it seems with the addition of Andy is a genius and Anne wants to get pregnant to run out the rest of the season, but I am intrigued to see what the show does after this.
Back to the wedding, Andy's tribute song is perfect, Tom's speech is perfect, Ron's rings are perfect, Little Sebastian is resurrected and even Jerry doesn't screw things up. That is how perfect this episode of Parks & Rec is, and even if it might not be the perfect send-off for the series anymore, it is the perfect wedding for one of TV's greatest couples of all time. Amy Poehler and Adam Scott have rarely had better chemistry on the show as they did here and they are the reason why this romance works so incredibly well. Nick Offerman and the rest of the cast are all in top form and its great to see everyone bring out their A game.
The episode was also full of wonderful little touches. Chris' wedding present to Ben, Jerry peeing himself, Jerry Jamm and one last appearance of DJ Roomba.
A fantastic episode of Parks & Rec, one of the best ever, and I couldn't be happier that these two love birds have finally tied the not. Leslie deserves this perfect wedding conceived by the Parks & Rec crew. Season 5 might have hit a high note for the season, but I hope the final few episodes of the season find someway to maybe at least graze the heights that this wedding hit. Lets see what Parks & Rec has got left in the tank.
Random Ramblings:
-"The falcon is entering."
-"Who is crazy."
-"And the first time I won't regret walking down the aisle."
-Jewelry and Nails tray, amazing.
-"Squirrels and Birds, not very helpful."
-"Just a dab." "Third time this week."
-Licensed Little Sebastian lookalike.
-"We love you grandma."
-"You are looking at a Prime customer."
-"Yay, best wedding ever!" predictable but perfect with Ron taking out Jamm.
-"And Ken Burns never wrote me back."
-"Is it a dog?"
-"I got five bathrooms."
-Champion!
-Well, this is more perfect than the park.
-"That's fine, that's fine..."
-Yay, Jerry!
-DJ Roomba!
-"This song, which is for Little Sebastian, is for you."
-It is kind of a shame that isn't the last episode, maybe they will top this?
-"Only took me twenty minutes."
Your Daily Blend of Entertainment News
Thank you for signing up to CinemaBlend. You will receive a verification email shortly.
There was a problem. Please refresh the page and try again.