Paz de la Huerta Won't Be Back For HBO's Boardwalk Empire Season 3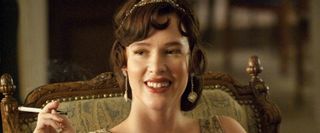 Life is dangerous in Atlantic City, especially on the Boardwalk. There are many ways to lose yours on the HBO prohibition set program Boardwalk Empire and the newest cause of death, is vanishing without a trace. Although her departure was unceremonious at best, it seems that Paz de la Huerta's Lucy Danzinger won't be returning to the Boardwalk for the upcoming Season 3.
TVLine reports that the actress' third season contract option was not picked-up by HBO. And even though she joins several other main members of the cast who won't be returning next year, her departure (SPOILER) is slightly different than Michael Pitt's Jimmy Darmody or Dabney Coleman's Commodore Kaestner who both bit the dust in the Season 2 finale. The obvious difference is that, well, their characters' lives came to an end on the show where the last we saw of Lucy, she had simply skipped town and left her baby with the father, Michael Shannon's Van Alden.
That kind of disappearance, coupled with the network not renewing her option makes me think that there might be a little more to it than the writers simply being finished with the character. And the fact that the TVLine article makes special note that an HBO rep declined to comment might also suggest something like creative differences (or all that nastiness last year). However, that is merely speculation and whatever reason for her departure, we won't be seeing de la Huerta's Lucy anytime soon but a re-appearance down the line is not unfathomable, her character does have a baby still very much in the mix. Sorry, baby.
As we reported the other day, at least the show is bringing in the fantastic Bobby Cannavale to help fill this ever increasing void. Boardwalk Empire will return for Season 3 on HBO. It now stars Steve Buscemi, Kelly McDonald, Michael Shannon, Shea Whigham and Bobby Cannavle. It was created by Terence Winter.
Your Daily Blend of Entertainment News