Person Of Interest 2013 Comic-Con Panel Live Blog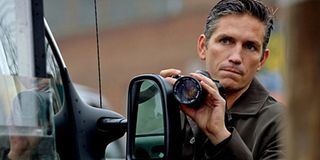 CBS shows might not typically be known for rapid, cult followings, but Person Of Interest is a special case. Unlike the majority of the network's shows that are consumed by a very large number of casual viewers, Person Of Interest has a very rabid viewerbase, and they should be out in full force today during the program's Comic-Con Panel. We've been told there will be a special video presentation and Q&A, and we'll bring it all to you live, whatever it might entail.
Here's a look at the official description…
4:05 PM: We're going straight into a video presentation...
4:11 PM: Prior to a pretty typical reel of footage from last season, we're given an interspersed montage of the Person of Interest theme along with news clips of the recent spying expose.
4:13 PM: Producers Jonathan Nolan and Greg Plageman are willing to joke about the link between the United States Government and Person Of Interest, but they're quick to distance how their machine works from how the US was actually collecting information.
4:15 PM: There have been some conspiracies on the Internet POI might be moving to distance itself from Detective Fusco, but Kevin Chapman is here and got a pretty big round of applause, as did Sarah Shahi who plays Samantha Shaw. Juding by her mere presence here, she's clearly going to be a major part of the show moving forward.
4:18 PM: Michael Emerson ("Finch") is very well-spoken in real life. He uses big words and speaks in thoughtful sentences without seeming full of himself or like he's trying to impress anyone. He's just a sharp dude with a hundred dollar vocabulary.
4:19 PM: Jim Caviezel praises the writers for consistently churning out such interesting premises.
4:20 PM: And my suspicions were correct. Both Sarah Shahi and Amy Acker ("Root") have been upgraded to principal cast members for the upcoming season.
4:23 PM: A fan asks why the show isn't embraced by the traditional science fiction community. The producers admit they definitely see what they're doing as science fiction but they're also creating for a wide audience. That being said, they would clearly welcome any of the hardcore sci-fi fans who wanted to go a little more mainstream.
4:26 PM: Both new castmembers are overjoyed about joining the cast. They like the idea of being onset every week and being a part of what's unfolding.
4:30 PM: Jonathan Nolan admits the acting has caused him to push the show in a bit of a different direction than he expected, as related to the arcs of certain characters and the actors and actresses who have stuck around.
4:31 PM: Michael Emerson was asked by producers if it would bother him if they cast his real wife as his fictional wife on the show. Not surprisingly, he agreed, probably because his wife (Carrie Preston from True Blood and The Good Wife) is an incredible actress and because he's oddly only played opposite her in love scenes during his acting career.
4:35 PM: We will get to see more Paige Turco ("Zoe Morgan") this season because, as Nolan says, plenty of "shit needs fixin'".
4:36 PM: Michael Emerson admits he's never won a single scene opposite "Bear". He's just too natural, but he still approves of working opposite him.
4:37 PM: Jim Caviezel has said maybe two words this entire panel. He's not aloof. He's been listening and making eye contact. He's just not a Chatty Kathy, which seems about right considering how his character isn't usually a conversationalist.
4:41 PM: Standard Comic-Con question based on hours and hours of overthinking: "Is there a deeper motivation for why the name Samantha comes up a lot?" Standard Comic-Con answer based on truth: NO. It's Nolan's daughter's name, and he's not always the most creative dude in the world.
4:43 PM: Taraji P Henson is at a charity event and couldn't make it, but she's not been kicked off the show in case you were wondering.
4:45 PM: And that ends a pretty dry but informative panel...
Enthusiastic about Clue, case-of-the-week mysteries, the NBA and cookies at Disney World. Less enthusiastic about the pricing structure of cable, loud noises and Tuesdays.
Your Daily Blend of Entertainment News
Thank you for signing up to CinemaBlend. You will receive a verification email shortly.
There was a problem. Please refresh the page and try again.