Petals On The Wind TV Movie Description Reveals Cathy's Plans For Revenge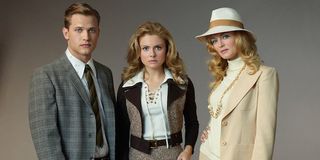 Following word that Lifetime plans to air the Flowers in the Attic sequel Petals on the Wind this Memorial Day weekend, the network has released an official synopsis that gives us a better idea of the plot of the TV movie. Even if you've read the book, this description's worth a look as it clues us in to the timeline changes the followup is making, likely for the sake of condensing the story.
Here's the official synopsis for Petals on the Wind, which airs Monday, May 26 at 9:00 p.m. ET/PT. Be warned that it's a little bit spoilery in terms of the plot (especially the last couple of sentences):
In terms of comparing the synopsis to what we know of the story from V.C. Andrews' Petals on the Wind the biggest change is one we already knew was coming, and that's that the story would not pick up with Chris, Cathy and Carrie riding on a bus headed south. But rather, the TV movie will jump ten years ahead, recasting Chris, Cathy and Carrie in the process. Heather Graham will reprise her role as Corrine Foxworth, Chris and Cathy's mother, while Ellen Burstyn will play Olivia, the Grandmother. Dylan Bruce will reprise the role of Bart, Corrine's second husband. As you'll note in the synopsis, Bart plays a key role in Cathy's plans to exact revenge on her mother.
I'm not going to mention any major spoilers about the plot of the book as it relates to this adaptation, but I'm assuming we know who the referenced "tragedy" that "strikes" refers to, and in terms of adapting the story, I hope the assumption is correct, as that part of the book really is a turning point for Cathy in her motivation to get revenge, and also in terms of refreshing her rage -- and our perception of it. It's also worth noting that it seems like they're incorporating Cathy's ballet pursuits and her relationship with Julian into the story. With the book condensed into a TV movie, I doubt they'll be able to dig too deeply into Cathy's relationship with Julian, but it's a big enough part of the book that it's good to see it's being worked into it.
But there's no mention at all of Paul, and he's not listed among the characters bios Lifetime included for the press, so I'm going to guess that his part will be diminished if not eliminated. I can't imagine they'd cut him all together, unless they're not planning on explaining how Chris, Cathy and Carrie got by over the years between the attic and the sequel's time-frame. With that said, Paul's relevance exists largely in that gap that's not being included, so it's entirely possible he'll be as present in the movie as Chris Dollanganger (the father) was in the first movie, if not eliminated completely but referenced as their caretaker. Just a bit of speculation.
If you haven't read the book, Amazon has the Kindle version for $4.99. The book could be subtitled "Cathy's Revenge," as a good chunk of the story deals with her rage over what her mother did to her and her siblings, and her eventual efforts to pay her mother back, with interest. Speaking of Corrine, here are a couple photos of Heather Graham looking stylish and '60s for the film. Hopefully Lifetime will release more photos (and a trailer!) soon!
Kelly joined CinemaBlend as a freelance TV news writer in 2006 and went on to serve as the site's TV Editor before moving over to other roles on the site. At present, she's an Assistant Managing Editor who spends much of her time brainstorming and editing feature content on the site.
Your Daily Blend of Entertainment News
Thank you for signing up to CinemaBlend. You will receive a verification email shortly.
There was a problem. Please refresh the page and try again.