Pop Up Video Preview: Britney Spears' Till The World Ends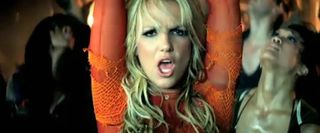 I don't live in the past, but it's really nice to see it flicker by ever so often, and I feel like that's been happening more and more when it comes to TV favorites from my childhood. First, classic Nickelodeon shows like All That and Doug started airing again, this time late at night on Teen Nick. Then, I saw an awesome preview of a revamped Beavis and Butthead, with MTV proclaiming they are going to air new episodes of the series this fall. Now, VH1 has revealed they are rebooting Pop Up Video starting October 3rd. All I need is some Nickelodeon Gak, a Skip-It, and a Sega Genesis and I'm pretty sure I will actually be in the year 1996 again.
Of all the nostalgia on television nowadays, this may be the most exciting for music fans. In a world where music channels like MTV and VH1 have more programming that involves people getting drunk than anything that has to do with actual music, I'm sure Pop Up Video's return will be a very welcome one. One of the first videos bubbling up this time is one of my favorite pop hits of this year, Britney Spears' apocalyptic dance party anthem, "Till The World Ends". Check out the clip, pop-ups included, below:
Get More: Britney Spears (opens in new tab), Pop-Up Video (opens in new tab), Pop Up Video: Britney Spears, 'Till The World Ends' (opens in new tab), Free Music Videos (opens in new tab)
Hmm. As a Britney fan, I'm not too crazy some of the "facts" that they included, but hey, it wouldn't be Pop Up Video without a little snark. I'm not sure if I'll enjoy the new videos as much as I would enjoy them just re-airing old episodes, but I'll take what I can get. VH1 is definitely moving in the right direction with this, and I wish MTV would get on the ball too. Beavis and Butthead is an excellent start, but I'd love to see some of the older music shows, like Making the Video or Yo! MTV Raps return as well. I even miss stuff like Say What? Karaoke. Also: Daria. We really really really need more Daria.
Pop-Up Video returns to VH1 on October 3rd at noon/11c
Your Daily Blend of Entertainment News
Thank you for signing up to CinemaBlend. You will receive a verification email shortly.
There was a problem. Please refresh the page and try again.