Queen Latifah Will Host Daytime Talk Show Starting In 2013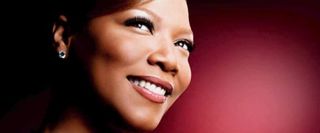 Queen Latifah is an Oscar nominee, a Grammy winner, a makeup spokesmodel and an all-around entertainment industry powerhouse. So why not add talk show host to the list? Today Latifah, Overbrook Entertainment and Flavor Unit Entertainment announced plans to produce a new daytime syndicated talk show that Queen Latifah will host. Overbrook, you may now, is partly run by Will and Jada Smith, and in fact, Latifah's relationship with Will Smith goes all the way back to the Fresh Prince days. Here's how Overbrook's Miguel Melendez puts it:
Latifah is far from the first woman to turn from a movie acting career to the talk show couch-- look at how well Ellen DeGeneres and Rosie O'Donnell have done with it-- and there's no reason to think she won't be just as successful. She's got a big, warm personality that translates in all of her movie roles, making movies even as ridiculous as The Last Holiday and Just Wright feel perfectly cozy and enjoyable. It's not hard to imagine her softening up her talk show guests and laughing her way through cooking segments, presumably with a little bit of the edge that a Jersey-born former rapper would bring. I mean, not too much edge-- this is daytime TV, after all. But even bored housewives could use a little spark in their TV viewing once in a while.
The obvious gap that Latifah seems to be aiming to fill in daytime TV is Oprah, who has decamped to her struggling OWN Network and left a significant opportunity for another African-American woman to take over daytime. This may be a career left-turn for Latifah, but she also seems remarkably well suited for the job.
Staff Writer at CinemaBlend