The Ratings Battle Between Gotham And Supergirl Is Really Starting To Heat Up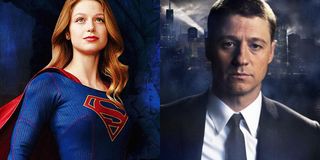 Although not everyone was keen to admit that Fox's Gotham and CBS' Supergirl would be competing against one another on Monday nights, it's been a ratings battle that has been going on over the past month or so. While Supergirl got off to a strong start at the end of October, both shows have a healthy DVR audience, and this week, we learned that Gotham has tied Supergirl in the ratings for the first time. This hasn't happened in live numbers, but it has happened in Live+3 and Live+7 numbers.
Supergirl started out with an extremely strong 3.2 rating and 12.9 million total viewers. In the weeks subsequent the live ratings have not been as strong. The most recent episode, in fact, only drew a 1.5 rating over at CBS, as various viewers have phased out or settled into a DVR routine. The most recent Gotham episode did barely lose out in same day numbers, drawing a 1.4 rating. But in DVR numbers, the shows have a very similar viewership.
Deadline reports that in both Live+3 and Live+7 numbers the two shows are currently tied. Gotham tied Supergirl in the Live+7 numbers way back on November 9, but it took a little longer for the three-day catch up. When the latest numbers came out in regards to the November 23 episode, Supergirl and Gotham both did a 2.1 rating. Moving forward, the shows could continue to eke ahead or fall behind.
It should be noted that both shows have seen ratings decreases since they returned/premiered this fall. Fans usually watch a lot more avidly in September and October and then the numbers begin to slow down a bit as people lose track of certain shows and families get busy with sports and other activities, not to mention getting ready for the holidays. But while Supergirl has seen massive ratings drops (it started at a 3.2, after all), Gotham has mostly stayed steady, losing a point or slight percentage here or there. Now, the two shows are tied, and while Gotham aired its winter finale last night, we could see the pre-Batman show eventually overtake the female superhero series when both shows air opposite one another this winter. Only time will tell.
Supergirl recently got an extended episode order from CBS, which means there will be more opportunities for the DC comics shows to theoretically compete this winter. For now, you can catch new episodes on Monday nights at 8 p.m. ET. Gotham is expected to return to the schedule on Monday, February 29, also at 8 p.m. ET. To find out when winter favorites are returning, check out our full midseason premiere schedule. (Note: NBC has not announced dates, yet).
Amazing Race & Top Chef superfan with a pinch of Disney fairy dust thrown in. If you've created a rom-com I've probably watched it.