ReelzChannel Telling Us Everything About The Dark Knight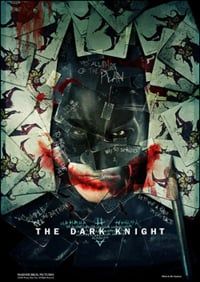 During the week of July 11-20, cable/satellite network ReelzChannel will be preparing us for the release of the most anticipated movie of the year- The Dark Knight.
For 10 days, ReelzChannel TV and their website, Reelzchannel.com, will provide us all with a masters-level education on the Batman franchise with interviews, retrospectives, trivia, production notes, and much more.
Below, you will find a list of ways that The Dark Knight will be dominating ReelzChannel's broadcasting schedule, but make sure to stop by the ReelzChannel website for online content to complete the Gotham experience!
Starting on Friday, July 11, at 7 PM ET/PT, Secret's Out, hosted by movie critic Leonard Maltin, will explore some of the lesser-known films featuring The Dark Knight stars Christian Bale, Michael Caine, Heath Ledger, Aaron Eckhart, Maggie Gyllenhaal, and Morgan Freeman.
Dailies, hosted by Mike Richards, will present breaking news about the sequel to Batman Begins including reviews from early screenings, stories from all around the Bat-franchise, and interviews with the cast. Senator Patrick Leahy, one of The Caped Crusader's biggest fans, will show off his vast collection of Batman memorabilia. Coverage premieres Monday, July 14, at 6 PM ET with an encore at 8 PM ET/PT
On Monday, July 14 at 7 PM ET, Movie Mob members across the web will discuss the actors who have portrayed Bruce Wayne over the past twenty years, from Michael Keaton to Christian Bale and (probably, sadly) including Val Kilmer. All of the supporting characters, from allies to villains to love interests, will also be put under the microscope. It should shape up to be a very critical, very snarky show. As I type this, I'm formulating a drinking game based on how many times "bat nipples" are mentioned
Each night Monday, July 14, through Thursday, July 17, at 7:30 PM ET, What It Takes will explore the histories of stars that have appeared in the Batman franchise, including Morgan Freeman, Jim Carrey, Michelle Pfeiffer, Nicole Kidman, and George Clooney. Each episode will also feature pop-up Batman trivia. It's like True Hollywood Story meets Pop-Up Video!
Please tell me that I'm not the only person who remembers VH1's Pop-Up Video.
On Wednesday, July 16, at 6:30 PM ET, The Big Tease, hosted by Chi-Lan Lieu and Jeremy Parsons, will showcase the trailers of the six most recent(?) Batman films and then discuss the evolution of the world of Batman, including the hero, his city, and his fellow Gothamites.
On Thursday, July 17, at 6:30 PM ET/PT, Movie Up, hosted by Tory Shulman, will feature highlights from the 1966 Batman film (along with an appearance from Adam West!), the Animatrix-esque (and releasing tomorrow!) short animated film DVD anthology Gotham Knight, and the Blu-Ray release of Batman Begins.
On the night of The Dark Knight's premier - Friday, July 18 - at 9 PM ET/PT, the half-hour original special ReelzChannel Spotlight: The Dark Knight will feature Dailies correspondent Gerrad Hall conducting never-before-seen interviews with The Dark Knight stars Christian Bale, Maggie Gyllenhaal, Aaron Eckhart, and director Christopher Nolan. Meanwhile, Travis Oscarson will be talking with fans exiting early screenings of the film for their reactions to what is quite possibly the most anticipated movie of the year.
The Directors will look into the works of former Batman directors to explore their contributions and influence on the mythos of The Caped Crusader. Each episode will also feature pop-up Batman trivia. Tim Burton's work will be featured on Monday, July 14, at 9 PM ET/PT and Joel Schumacher will be featured on Thursday, July 17, at 9 PM ET/PT.
Your Daily Blend of Entertainment News
Thank you for signing up to CinemaBlend. You will receive a verification email shortly.
There was a problem. Please refresh the page and try again.